Travel with kids : Tokyo with kids – Japan with kids
Alex (6), Noah (13), Anna (15)
and their parents in Tokyo
A fascinating city, between Tradition and Science fiction:
welcome to Tokyo as a family!
  What we loved to do in Tokyo with kids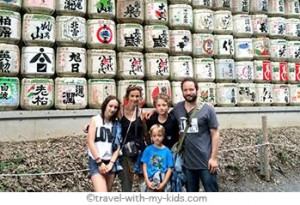 Our favorite places in Tokyo with kids
 What we loved to do in Tokyo with kids
To cross the town by "sky train": to reach the island of Odaiba, a large artificial island built in the Tokyo Bay, the journey on a driverless surface line subway is absolutely amazing. If you sit right at the front of the train, the experience becomes magical as the train glides effortlessly between the buildings and across the bridge to the island of Odaiba. On the way back at night, the view on the Rainbow Bridge and the Tokyo Bay is unforgettable : welcome to the twenty-second century with a subway ticket! Subway: YURIKAMOME line from Shimbashi station (south of Ginza) to the AOMI station. One-day pass ticket at a reduced price, half-price for children.
To admire a traditional wedding: at the heart of the Yoyogi Park, the Meiji-Jingu Shrine is a heaven of peace where time seems to stand still. Here, serenity gives way to fantasy: a striking contrast of the two sides of Japan! The shrine held traditional weddings on weekends : the procession slowly goes through the central courtyard, the priest heading the way with the couple tucked under a large red umbrella, the bride wearing a white kimono, the groom wearing a black one. At the end of this beautiful ceremony, the bride and groom pose for a long while in the courtyard of the temple, and both family members and tourists love it!
To mark the end of a busy day with a traditional Japanese spa, like the Oedo Onsen Monogatari of Odaiba. The onsen is a very hot bath with water from underground hot springs. Tokyoites go there with friends or children for a relaxing break. Everything is provided on site, from the kimono to the shampoo and conditioner. You can hop from one bath to another, either bubbly or filled with water coloured with black tea, and in outdoor baths in small individual bamboo bucket… a really pleasant and relaxing experience! A Japanese service, that is to say perfect, for less than 20$ ! Subway Yurikamome line, Telecom Center Station for Onsen Monogatari
To enjoy the 360° breathtaking panoramic view of Tokyo by night: at 52nd and last floor of the Mori Tower, a magic moment along the huge windows that make the entire round. You can even just sit at to contemplate this scintillating immensity. If the weather permits, you can even enjoy the open-air observatory on the rooftop. On the ground floor, on the front panel, stop as Tokyoites under the giant spider sculpture by Louise Bourgeois named "Maman" (here's a good discussion with the children!). You can also enjoy a wonderful 360 ° view from the special observatory of the Tokyo Tower. Mori Tower in Roppongi Hills (Roppongi subway, Hibiya and Oedo lines).
To take a walk across the famous Shibuya crossroads : may be the epicenter of youth culture, in any case the largest zebra crossing in the world, crossed every 4 minutes by a real human tide … Three giant screens continuously broadcast clips and pubs: it is colorful, lively, noisy and a bit crazy! (even more on week-ends). To watch the show seated, you can go for a Coke and nibbles at the Starbuck's Coffee first floor… Shibuya crossroad is right outside the Shibuya station, Hachiko exit: at least one easy place to find in Tokyo!
To stroll at Ginza by night: may be Ginza is no longer the hype spot it used to be, but it's still a good place to walk around! Often compared to the French Champs Elysées, luxury shops follow one another. Not necessarily exciting, except to admire with the children one or two beautiful architectural achievements. My favorite: the gorgeous Hermes Renzo Piano's building, while glass blocks, especially beautiful when lit at night (as it is night in October at 5pm, you can admire Ginza by night without going to bed at crazy hours!). Get off at Ginza Subway Station, and walk around Ginza-dori (also called Chuo Dori). And because we are in the land of Hello Kitty and Pikachu, let's head to the close Hakuhinkan Toy Park: a large toy store over 6 floors, of course with every Pokemon, Naruto, Hello Kitty stuff you can imagine… (at the far end of the avenue: 8-8-11 Ginza, Shimbashi subway station / Ginza exit on JR Yamanote Line, Exit 1 and 3 on the Toei Asakusa Line and Ginza).
If you are beautiful buildings lovers, do not miss Omotesando (the avenue that has dethroned Ginza!) to admire the Prada building, and in my humble opinion, even more beautiful, Tod's building (get off at Omotesando station, exits A4 and A5, then go up the avenue). Again nice children are rewarded with a stroll in a super large toy store: Kiddyland. Full of so kawaii little something to bring back and spoil cousins, or make the best birthday party ! ( in the other part of Omotesando Avenue, closer to the Meiji-Jingumae station: 6-1-19 Jingumae)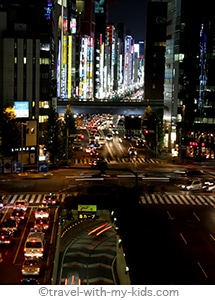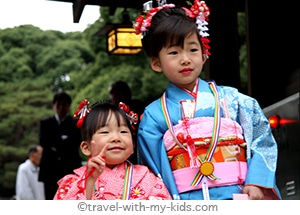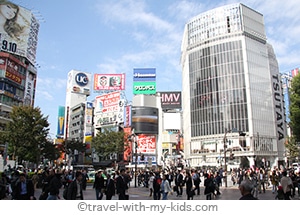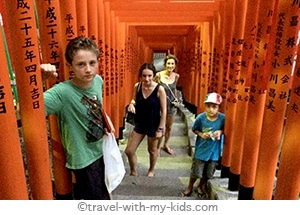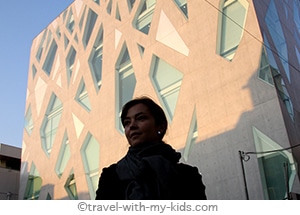 Our favourite places in Tokyo with kids
The Harajuku district on Sundays: one of the busiest in Tokyo, that offers a real show! Japanese teens with eccentric looks wander along the Takeshita Dori. On this long pedestrian street, one shop after the other abounds with gadgets and the latest trends of accessories. This young and noisy crowd atmosphere ends where the large Yoyogi Koen Park begins. Yet the show continues up to the small bridge of the entrance, where young "Cosplay" meet dressed like their favorite video game or Manga characters. You may also come across some rockabilly fans and other Japanese Elvis demonstrating their talent.
Tokyo's parks :
The Yoyogi Park is the ideal place to take a break, run and play for a while before discovering the most beautiful Shinto shrine in Tokyo, Meiji-Jingu.The large green lawn is very welcoming for a family picnic of bento (mini meal tray) and sushi or a truly fresh salad found in all small convenience stores. 
The Ueno Park : the largest and one of the oldest park in Japan! Very popular for its spring cherry blossoms, it also houses several museums, temples, shrines and a beautiful zoo. (North of Tokyo, a 10-minute walk from JR station Uguisudani). Some suggestions, not to mention a pleasant picnic:
-the old Jomyoin Temple, with its 84,000 stone statues of Jizo, "the bodhisattva (protector) of children and travelers": we feel concerned!), aligned in a Zen garden. Very impressive!
– the Tokyo National Museum: the largest museum in Japan, with more than 100 000 pieces of ancient and medieval art. This is huge, and far too much for children, but you can go see the beautiful landscape paintings, samurai armor … (Closed Monday and during the year-end holidays)
– the Ueno Zoo: the oldest of Japan, it has 10 000 animals. Its stars: giant pandas! Playground just outside the zoo.
-the Toshogu Shrine, which dates from the17th century: it opens on a beautiful paved path leading to the shrine, surrounded by many stone lanterns and bronze offered by the feudal lords of the country.
A day in Odaiba : the island offers several activities for children (preferably on weekdays to avoid the crowds). At Decks Mall : The huge Park SEGA Joypolis will delight young enthusiasts of video games. If you wish to buy souvenirs, just push the door of the large Toys R Us toy store: geisha and samurai costumes, sushi dinette and many very "kawaï" Hello Kitty toys can be found! Large choice for lunch : Daiba Little Hong Kong with Chinese restaurants, McDonalds, tonkatsu restaurants (breaded cutlets) … At Palette town: the Toyota showroom, the Gran Tourismo circuit simulators, the demonstrations of smart cars of the future (without a driver of course) and the hybrid kart circuit for large children deserve a visit. Finally, a ride on the Ferris wheel offers one of the most spectacular views of Tokyo. YURIKAMOME line from Shimbashi station (south of Ginza) to the AOMI station. This is where the majority are area attractions (as Palette Town) or Odaiba Kaihin Koen Station for Decks mall.
Senso-Ji Temple: an old temple, maybe the most popular and most visited in Tokyo! Don't miss it: you'll admire a beautiful pagoda, a huge lantern and a crowd of faithful come to sprinkle incense smoke, and throw coins to sound the gong, hanging small paper prayers, reading oracles… Take the opportunity to walk a little in the charming surrounding neighborhood, Asakusa, which gives an idea of what could be the former Tokyo: low houses, small shops, outdoor eateries … A tranquil atmosphere, almost provincial in relation to other hectic districts! (At the heart of Asakusa, north-east of Tokyo. Lines and Toei Asakusa subway Ginza, Asakusa exit, 1 and A5)
Ghibli Museum: a small museum dedicated to the production of Hayao Miyazaki, the director of My Neighbor Totoro, Kiki Witch,Princess Mononoke… of course, it's more interesting if your children know and love these movies! More than a theme park, it's the stuff of dreams and imagination: Totoro looks at you through the window, while a giant robot guardian Castle Raputa stands guard on the terrace… For younger children, the giant stuffed cat bus can be fun to climb. There is also a projection room with unreleased films. In Tokyo, tickets are on sale in Lawson supermarkets vending machine. Rather well explained on the website.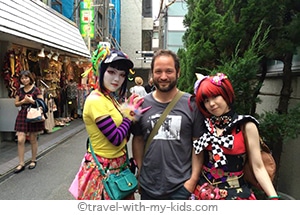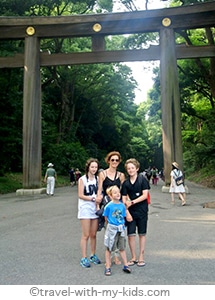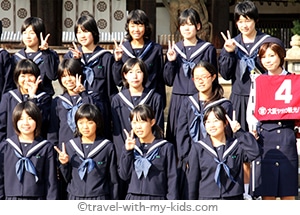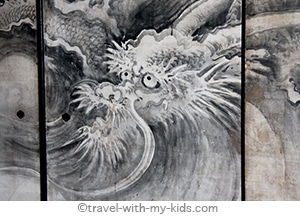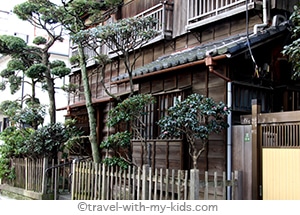 Tokyo family accommodations
Tokyo has no shortage of stunning design hotels, ultra-luxurious … and expensive for travelers! If you can afford it, you will be spoiled for choice: Park Hyatt, Mandarin Oriental…
Our (extravagant) crush: a wonderful design hotel in the heart of Ginza, Mitsui Garden Hotel Ginza Premier. As the hotel is located above the 16th floor, the rooms offer an incredible view on the city, especially at night, right from your bed! The highlight: in the Deluxe room, enjoy an amazing night view of Tokyo from the bath-tub… Without any doubt, the longest bath I took in my lifetime! 
But there are also some good places to sleep as a family in Tokyo without breaking the bank, from more charming traditional hotels (ryokan) to "business hotels" functional but convenient … Pay attention to the location, depending of your points of interest: Tokyo is a huge city! Not to spend the day in the subway, we spent a few nights in one area, then few others in another.
[Our tip: before leaving the hotel, take with you the access map that you will always find at the reception. Essential for the return taxi ride!]
A Japanese experience not to be missed: a night in a ryokan!
Because it's genuine, because it's exotic, because it's fun and more economical with children… Ryokans are small hotels, fully furnished and traditionally decorated: no bed in the room, but futons mattresses on the tatami, sliding rice paper doors, a low table and cushions, sometimes a lovely garden … Some are luxurious, some less, but in all you'll take off our shoes at the entrance and enjoy the sento (very relaxing hot bath) before wearing your Yukata (cotton kimono supplied by the ryokan). Most of our addresses are located in the more traditional and less hectic area of Asakusa, close to Senso-Ji temple and Uueno Park  (zoom in the map is needed).
Sukeroku-no-Yado Sadachiyo : a nice ang genuine typical ryokan in Asakusa ditrsict. 
Ryokan Asakusa Shigetsu : very nice suite with private bathroom, lovely traditional bath with the view on Asakusa's pagoda.
Ryokan Kamogawa Asakusa: nice family room with private bathroom. 
The Homeikan Daimachi  Bekkan, with a basic comfort and a bit dated, doesn't lack charm. A bit out northwest of the city (Bunkyo-ku), in a nice and quiet area, not touristic and convenient to reach Ueno and Asakusa. No bathroom in the room (as often in ryokan) but clean common wc, a shower with privacy and a traditional bath. Small Japanese breakfast only (fish, green tea), but you can buy good pastries and fruit juices not very far.
Hotels:
The Hotel Asia Center of Japan offers a good value: a "business hotel" of a two-star level, with the great advantage of being very well located in Aoyama: close to Roppongi, Omotesando, Shibuya… Clean and comfortable rooms (little charm indeed), continental breakfast and service at the reception efficient and available to help if needed. Possibility to have two connecting rooms. 
Shiba-Park Hotel is a good mid-range hotel, offering spacious rooms for families (35 m²) where to have a comfortable stay. Located in the heart of Tokyo, not far from to the Tokyo Tower and Roppongi area, close to metro access.
For families traveling on a budget, Tokyo Plaza Hotel is located in a convenient place, close to Shinjuku area, with 2 min walk to the subway station. It offers quadruple rooms for families, at reasonable prices. Not very spacious, but that is what you can expect in Tokyo for this price.

 Eating with kids in Tokyo
Tokyo is full of opportunities for eating, and often cheaper than you would think! You'll be spoiled for choice… if you find the restaurant! Rarely on the ground floor, they are usually upstairs or in the basement, with a sign written in Japanese only, so not always easy to find. (Very useful: the access plan, or address denoted in Japanese: kindly ask your hotel to call for you to get it)
Note that the meals are taken early in Japan: lunch from 12 to 1pm and dinner from 7pm.
For family lunch: 
The simple and economical solution: like Japanese do, buy your lunch at the local supermarket! Choose between bento (mini meal trays), sushi, very fresh salads, sandwiches bread… There are also yogurt, snacks, sodas and even hot coffee. If you are near a department store, you'll find plenty of fresh goodfood in the basement, well presented and very tasty. Just find a park or a small square to have picnic!
For family dinner in the Shinjuku area
Izakaya Rokuzo: a nice little restaurant in the bustling Shinjuku area (east). Not easy to find: it's in the basement and on the sign face a single ideogram in a circle. Traditional, informal and lively atmosphere, very friendly service, good food, not very expensive: why asking for more?  Tel: 03-5363-6920 / 1b, 3-28-9 Shinjuku, Shinjuku subway station
Tsunahachi Tempura: to eat very good tempura (deep-fried food)), at the 13th floor of the tower Takashimaya Times Square ( 5 Chome-24-2 Sendagaya, Shibuya-ku). A little easier to find! Shrimp, fish, vegetable fritters are made in front of you. Delicious, reasonable prices. Tel: 03-5361-1860 
For family dinner in the district of Roppongi
Teppanyaki-ten: To taste a Tokyo specialty, onomiyaki, garnished Japanese omelet. A real show when you eat at the counter: watching the chef in action, beat, cut, back, crushes everything with his spatula on the large hotplate! Dontt miss it with the kids, they loved it! Warm welcome, traditional setting and delicious cuisine. And if you don't want to slip right into your bed, go up to the 52nd floor of the Mori Tower, which is 5 minutes walk for the breathtaking 360 ° view over the city! Tel: 03-5475-5820 / 7-8-19 Roppongi, Minato-Ku 
Erawan: a very good Thai restaurant with a nice view from the 13th floor. Fine cuisine, attentive service, neat atmosphere = higher prices!  (if you have one of their delicious white wines, count more). Tel: 03-3404-5741 / 13F King Building (on the high street Gaien Higashi Dori), 5-5-1 Roppongi, Roppongi subway exit 3 
And why not the Hard Rock Café with kids? Of course not really typical, but guaranteed atmosphere and tasty burgers… Tel: 03-3408-7018 / set back behind the King Bulding (see Erawan Thai food), 5-4-20 Roppongi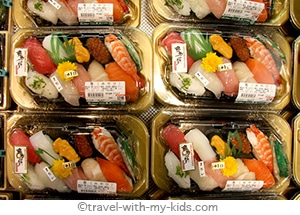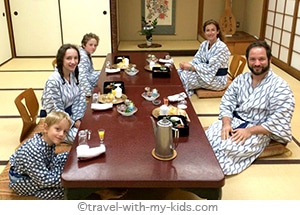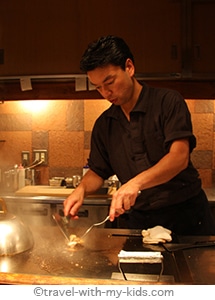 What we liked less
To get lost in the city, so often! It could be a nice and romantic stroll on your honeymoon trip, but when little ones are hungry or too tired to walk, it's quite a different story! The Japanese address system is really complex, and even if you get it, you won't be able to read anything. We also expected more people to speak english, even though I must say most Japanese people are incredibly courteous and helping when you ask your way.
The railway map is also very impressive and seems beyond comprehension: yes, it's one of the most complicated and extensive railway systems in the world. And one of the most efficient, clean and safe. Don't panic, this website is very helping to plan your trip : hyperdia.com. An english railway map also.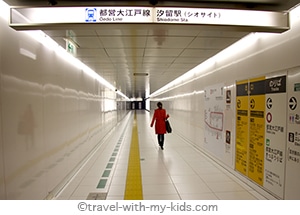 Tips 
Autumn and spring are the best seasons to discover Tokyo with kids and see the parks offer a magnificent sight. The contemplation of cherry blossoms (hanami), like that of red maple, are two highlights of Japanese culture. Be aware that the Japanese holiday week (Golden Week) is at the beginning of May. In both seasons, reservations are required well in advance. 
If the city isn't stressful, it can become exhausting: huge distances, a lot of transportation time, walking around a lot, with so many visual and sound solicitations …We must be reasonable: impossible to "see everything" in a few days, with children, without finishing completely exhausted! There is actually little "monuments" to visit (the city was destroyed twice), but a lot of fun and nice things to enjoy as a family. And the beautiful city parks are really nice for a break!
Again (sorry!), Tokyo is a huge city: not to spend the day in the subway, we spent a few nights sleeping in one area, then few others in another, "close" to the visits we planned. To split between different hotel may be an useful tip not to be exhausted by transport. It was also really pleasant to discover and enjoy several districts with well defined identity, as these contrasts are of course part of the charm.
If you're not speaking/reading Japanese, GPS will be a great help, as the so useful access plans with address denoted in Japanese. Our tip: before leaving the hotel, take with you the access map that you will always find at the reception: essential for the return taxi ride (most taxi drivers doesn't speak English) and for yourself if you ask your way. You'll notice that Japanese hotels, restaurants or attractions websites always provide an access map. You will quickly understand why!  To handle with this orientation situation, another good tip: take the subway to the closest station to your destination, then take a taxi for the last step. It won't be so expensive and you'll save a lot of time and tons of effort!
Arriving from Narita International Airport, we would recommend not to take a taxi, way too expensive: average price 200$ from the airport to Shinjuku Station for exemple. The  public transport to the city center districts is very convenient.
Be really careful when you, or even more the children, cross the street: it's not easy to get used to the left-side driving (when you are not, of course!).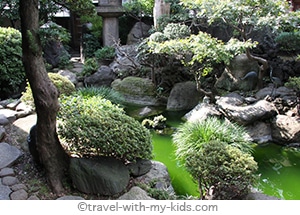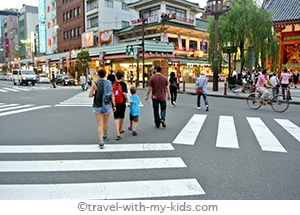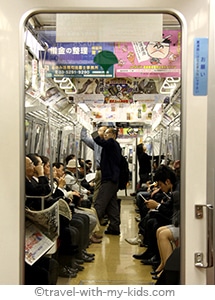 Don't forget to bring
a "sleeping mask" to sleep later in the morning (the one provided in the airplane will do) because there are no curtains or shutters in ryokans

a power adapter if your plug is 3 blades (2 only in Japan) 

comfortable walking shoes
Our favorite children's book on Tokyo:
– I Live in Tokyo
, by Mari Takabayashi. A lot of interesting facts to learn about Tokyo and Japan, following Mimiko, a seven-year-old girl. A very nicely illustrated picture book, great to introduce a typical Japanese lifestyle.
– My Awesome Japan Adventure: A Diary about the Best 4 Months Ever!
 A perfect introduction to Japanese culture for kids (from 7 and up): the diary of an American fifth grader who travels to Japan to spend four exciting months with a Japanese family. Delightful detailed illustrations and very informative.
– Hachiko: The True Story of a Loyal Dog
 This is a beautiful and moving story about the bond between a dog and a man. Young readers and animal lovers will love it. Hachiko's story is so famous that the dog have its own statue at Shibuya Station… 

  Tokyo kid-friendly Map
Enjoy your trip to Tokyo with kids!