Travel with kids : New York City with kids

Lola (13) and her parents
in New York City
A wild city with a thousand things to see and do as a family… Taking a walk in Central Park, discovering Manhattan from the top of the Empire State Building, going on shopping sprees: welcome to New York City with kids !
  What we loved to do in New York City with kids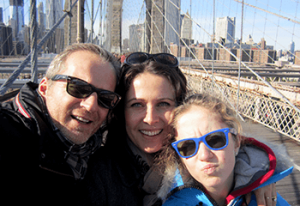 Our favorite spots in New York City with kids
New York City's family accommodations
 Eating with kids in New York City
 What we loved to do in New York City with kids
Contemplating Manhattan from the top of the Empire State Building: a must-do! From the top of King Kong's mythical skyscraper on 5th Avenue, the view of Manhattan is breathtaking. We used the audio-guide (which comes free with the New York Pass). We also learned a lot about the architecture of the skyscraper and the construction of the many famous buildings surrounding us, which was extremely interesting. The best is to arrive there at the end of the day, watch the sun set, and wait for night to fall to contemplate the city's lights.
Running after the squirrels in Central Park and spending an amazing afternoon in the gigantic park (340 hectares) in the heart of New York. You will see New Yorkers jogging, roller-skating, or even ice-skating on the ice ring during winter. Moreover, there are plenty of activities for those who don't want to simply lie in the grass: you can rent a bicycle or roller-skates, take a boat ride on the lake, have lunch, and visit the 'Strawberry Fields' – the memorial dedicated to John Lennon.
Going to see a musical on Broadway, like Billy Elliot at the Imperial Theater of Broadway. The staging, the set, the songs, the dancing, and the talent of the very young performer were fantastic. You can find half-price tickets on sale for the evening's show at the TKTS Discount Booth on Times Square, from 3 pm to 8 pm. The queue seems long, but don't give up, as it tends to move quite fast.
Going on a walk with the whole family on the High Line, an old raised railway line which meanders from 34th Street to the Meatpacking District. The line was abandoned for a long time and then converted into a green promenade. The view of the Hudson River and roofs of lower Manhattan is superb. It is a place for walking (bikes and roller-skates are forbidden), and during the spring, you will also find deck-chairs to relax. It really offers a lovely walk and a perfect break within the vibrating city.
Visiting shops as one would visit a museum! Our own best of:
-M&M's Store (Times Square), a three story temple dedicated to the brand, with gigantic mascots, tubes of m&ms sorted by color, and tons of gadgets.
-Toy's R Us, with its indoor Ferris wheel, gigantic models of New York monuments, and Lego people (Times Square).
-NBA League Store (666 5th Avenue), where you will find, of course, the jerseys of all the most famous players of American teams, but also basketball hoops to practise your shots.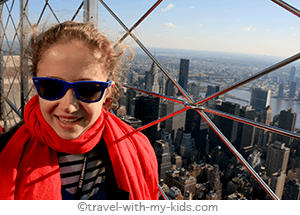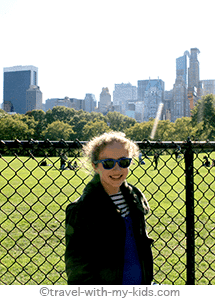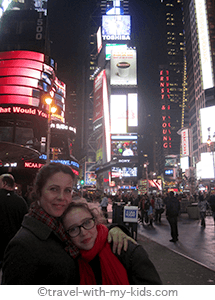 Our favorite places in New York City with kids
The Statue of Liberty: legendary! You take a ferry to arrive there. From the boat, the view of Manhattan is awesome. The bravest (and those who do not suffer of vertigo) can climb all the way up to the statue's crown via the narrow spiral staircase, and its 354 steps. The Ellis Island Museum is great for children to learn about the New York melting pot. (Try to go there in the morning, as ferries stop departing at 3:30 pm in the winter, and 4:30 pm in the summer).
Brooklyn Bridge: both the bridge and the view of Manhattan are gorgeous. Ideally, take a metro to Brooklyn (Brooklyn Bridge station), and then walk your way back to Manhattan so you can enjoy the panorama. A whole story of the bridge is reserved for pedestrians, roller-skaters, and cyclists, while the cars drive underneath.
Times Square and its gigantic screens, animated atmosphere, and crazy shops. Particularly impressive at night. To get a good overall view, you can use the escalators to climb up to the 9th story of the Marriott Marquis hotel. And from April to September, Broadway becomes a pedestrian zone!
Meatpacking neighborhood, the new 'hip area', and Chelsea Market, an old biscuit factory transformed into a food market. For instance, you'll find there all the accessories and ingredients to bake beautiful cupcakes.
The Museum of Natural History (West 79 St): colossal and didactic. We only glanced through the space, but the dinosaur galleries were much appreciated.
As to do shopping (an essential New York activity!):
Kids love the gigantic ephemeral shops which flourish all over Manhattan, based on seasons and holidays: you can find accessories, costumes, and knickknacks related to Halloween, Christmas, Valentine's day… A real treat for children.
Urban Outfitters (3 stores: 374 6th Avenue, 999 3rd Avenue, 521 Fifth Ave and 43rd St) ): this is Lola's favorite shop, for clothes, accessories, and various small objects.  Success guaranteed with teenagers!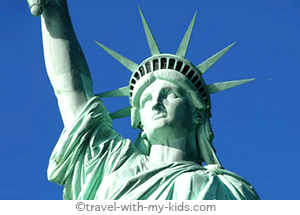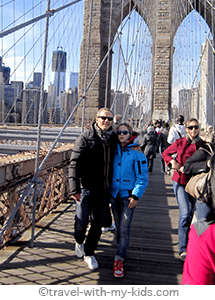 New York City family accommodations, hotels and apartment
Renting a flat is a convenient, economical, and comfortable solution when traveling as a family. We recommend to check out VRBO offers: you will find a very vast range of well-located apartments where you will feel at home. It's always nice to have dinner at home when the children are exhausted after a long day of visiting…
Our crush : Q&A Residential Hotel. Besides being an hotel, Q&A residential offers apartments for families with one or two bedrooms, all equipped kitchen, and 1 or 2 bathrooms. The apartments are quite new, really roomy (100m2), with a nice modern design. It's very  well located downtown, in front of the subway station 'Wall Street', in a beautiful Art Deco building. Cleaning everyday, and free muffins, croissants, tea or coffee in the morning!
For those who prefer a hotel:
Best Western Hospitality Suites: ideal for families of four/five members. Very well situated, next to Times Square, it combines the advantages of the hotel and the flat. Indeed, the apartments are quite spacious (75 or 105 square meters) with one or two bedrooms, an equipped kitchen, an everyday cleaning service, and included unlimited buffet breakfasts. 
Novotel Times Square: a well located hotel, close to Broadway, with a good quality/price ratio for families, given that children don't pay! Also a beautiful terrace for sipping a drink with a view of New York. Rooms for four with two double beds, and free breakfasts for kids.
Cosmopolitan Hotel Tribeca: very well located in Tribeca, south of Manhattan. The Cosmopolitan Hotel offers comfortable family rooms at very reasonable prices (95 West Broadway).

 Eating with kids in New York City
Good nibbles: a slice of pizza to go, hot-dogs and pretzels on the street, or for an amazing sandwich with ingredients on request, go to a deli, the typical New York grocery-diner, usually open 24/7.
Pop Burger: a fast-food that serves mini hamburgers – so cute! Perfect for lunch. As for famished fathers, be assured that the maxi Superman Hamburger is truly gigantic! Close to the big toy store FAO Schwartz (between 5th Avenue and 58th Street, 14E 58th Street)
Le Pain Quotidien: nice for a break in the heart of Central Par. Fresh, organic, and healthy food. We really loved their salads and enormous home-made cookies.
Katz's Delicatessen: a New York institution, which served as the décor for the famous scene in When Harry Met Sally. A really nice and inexpensive restaurant. 205 East Houston St (corner of Ludlow St)
Diners, the traditional 1960s style restaurants, were very successful. We tried Ellen's Stardust (1650 Broadway, near Times Square). Great deco, choo-choo trains, home-made burgers, and waiters dancing and singing one after another!
In Chinatown, you'll find many great Asian restaurants. The neighborhood is really worth a visit, so exotic it almost feels like a mini trip to Asia.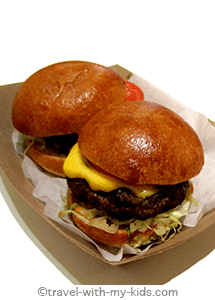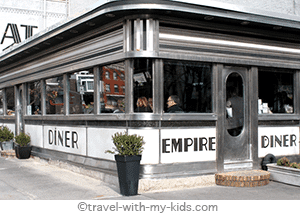 What we liked less
Delis, the diner-delicatessens which used to be spotted on every street corner, have almost all disappeared, replaced by Starbucks… what a shame!
Queuing to visit the Statue of Liberty: to avoid that, get a New York Pass, which also functions as a no-queue ticket.

 Tips
We really appreciated the New York Pass
: first of all you do save money on various entrance tickets, then it will also spare you time during the long lines. Thanks to this no-queue pass, you can just walk into the Empire State Building, the MoMA, the Guggenheim Museum, or the Statue of Liberty…
We stayed for one week with the children, in autumn. Do know that NYC is often sunny but temperatures can fall when you're walking in the sky-scraper's shadow, or with the fresh air coming from the sea.
Warning for teens: contrary to (French) popular belief, Americans don't wear Converse shoes or Eastpack bags that much…. you will have to search for them in souvenir shops, and even then it's not always easy to put your hands on them.
Extremely convenient: all taxis are equipped with a debit/credit card terminal. So no problem if you don't have dollars yet when arriving at the airport.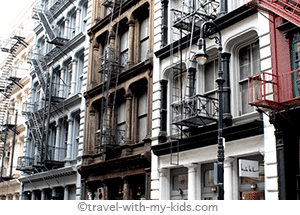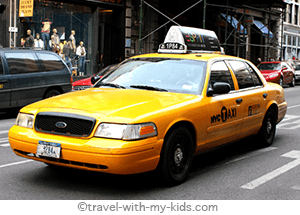 Don't forget to bring
very comfortable shoes for walking

an adaptor for electrical plugs (if you come from Europe)

once you're in New York, why not buy the kids a pair of roller-skates? So fun to use in Central Park or on the Brooklyn Bridge!
Our favorite children's book on NYC: 
– Our crush, oldie but goodie: This Is New York
, by Miroslav Sasek, a wonderful illustrated album to discover the great monuments and lifestyle of New York. Funny, poetic, colorful, the entire family loves it: a treat for all ages! A great classic to discover or re-discover with your children. 
– Larry Gets Lost in New York City
: a cute story (ages 3/7) about a boy and his dog, and in the same time a real resource for kids about the city... We like the old-fashioned style illustrations and relished getting lost with Larry the dog in the Big Apple!
– A Walk in New York
: a father and son day trip in New York, as a great introduction to Manhattan. Nicely illustrated, to be read together (ages 5/8), before of after the trip!
– Not For Parents New York City: Everything You Ever Wanted to Know (Lonely Planet Not for Parents): the Lonely Planet specially featured for kids (8/12). This illustrated chapter book tells many anecdotes and quirky stories about history, culture, people and major monuments of NYC. Very enjoyable!
Enjoy your travel to New York City with kids!