Travel with kids : Yucatan with kids (Mexico)
Ysé (7), Balthazar (10) and their parents
in Yucatan (Mexico)
Mexico with kids is magical! Yucatan, on the caribbean coast, is the ideal region to travel with children: turquoise sea, colorful villages, and incredible Maya pyramids…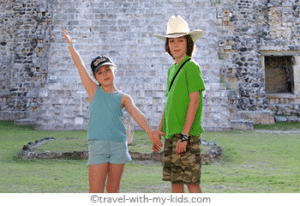 What we loved to do in Yucatan with kids
 Our favorite spots in Yucatan with kids
 Yucantan's family accommodations
 Eating with kids in the Yucatan
 What we loved to do in Yucatan with kids
Swimming in a cenote, a grotto with natural fresh water wells. In this magical place, one can dive with masks and scubas: the water is incredibly pure, which creates perfect visibility to observe small turtles and colourful fish. A real treat for kids! The 'Gran Cenote' is situated near the city of Tulum, on the road toward the archaeological site of Coba. You will find it easily, aided by the many advertisement boards displayed on the road.
… or swimming at gorgeous beaches: turquoise water, vast coasts of white sand, palm trees, the real postcard! And for kids who enjoy jumping in the waves, these beaches are ideal. In Tulum, many private beaches are set up with parasols, mattresses, and little restaurants. You can have lunch on the beach, in the shade of the palapas, as you sip an agua de fruta…
Swimming among the fish in the nautical park of Xel-Ha, in a bay full of small lagoons. In this managed nature reserve, you can observe plenty of multicoloured fish, just like in an aquarium, except that it is large enough for you to dive in! You can rent masks, scubas, palms, and lifejackets which will help with floating. To make the most of it, you can spend the entire day there. www.xel-ha.com Between Tulum and Playa del Carmen. A bit cheaper if you buy tickets online in advance.
Wandering around the markets: a delight! The colours, the animation, the small lunch stands, the funny souvenirs… A few must-haves: hammocks (the speciality of the city of Merida), the panama clothing that many men wear in Mexico, the embroidered dresses like those worn by Maya women. Adorable on little girls! And for children: pretty puppets, a bow and arrows like Maya warriors, and beautiful piñatas (admittedly a bit cumbersome!)…
Visiting the nature reserve of Sian Ka'an: a large, protected, environmentally friendly reserve, left entirely untouched. A splendid place! Over 300 species of birds live there. You can discover the park with a guide, by boat or kayak. There are even ruins hidden in the heart of the jungle… A true taste of adventure in an extraordinary landscape! And to make the most of it, you can even spend the night in a bungalow, on the shore of a gigantic desert beach. (A few kilometres south of Tulum)
Attending a sound and light show in the theme park of Xcaret (between Tulum and Playa del Carmen). The main attraction is a subterranean river which you can follow with a mask and a scuba. To be honest, the walk itself is nice, but nothing more. You can also swim with dolphins, but it is quite pricey! The best attraction might be the night show itself, devoted to the Mayan civilisation and the history of Mexico: costumed parades, a demonstration of the famous game of Juego de Pelota, Mariachi, and folk dances… very well done and quite impressive for children!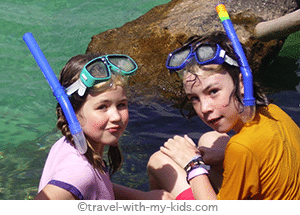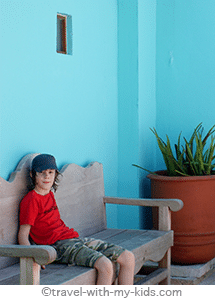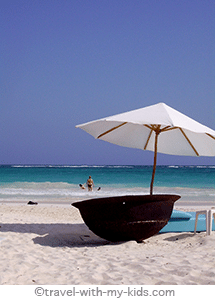 Our favourite spots in Yucatan with kids
Chichen Itza and its imposing Maya pyramid: an exceptional place! The site is gigantic, so a priority visit with children would be the great pyramid of Kukulkan (difficult to miss) with its 365 steps, pelota game, wall of skulls, and cenote of sacrifices. Come early in the morning, as soon as the sites opens. It will still be fresh outside and you won't need to queue for tickets. Besides a few iguanas, you will practically be alone at the feet of the pyramids… just like Indiana Jones discovering the Temple of Doom! 120 kilometres away from Merida, on the road to Cancun, and less than an hour from Vallodolid, a very pleasant stop-over.
Uxmal and its splendid palace: our crush! A beautiful Mayan site in a rolling landscape where walking is particularly enjoyable. Perhaps less 'spectacular' than Chichen Itza, but more refined, with perfectly proportioned edifications, decorated with beautiful sculpted friezes. 60 kilometres south of Merida.
Merida: with its low buildings and colourful facades, its markets, its squares… Lively night and day, the capital of the Yucatan is a very pleasant city. We have a sweet spot for the big market. There, you can find the most beautiful hammocks of the region, in all sizes and colours. Small shops selling toys and various, fun knick knacks for children: wrestling masks (the national sport), wrestler figurines, little cars, balls… In the surrounding streets, piñatas sores will amuse the kids. (Merida Market: at the angle of Calle 67 and 56)
Izamal and its colonial charm: a small town in the colonial style, with paved streets bathing in the sun, where all the facades are painted yellow. You can discover the city on foot (there are even a few carriages, which the children adore!), and the place has maintained a very authentic charm. Another on-site visit: the little covered market, typical of Mexican villages. (About 45 minutes from Merida, towards the East, a very nice stop-over between Merida and Chichen Itza).
Tulum and its breathtaking view of the Caribbean sea: the only Mayan site facing the Caribbean sea. The ruins of this ancient walled city are not the most impressive, but it is wonderful to wander around such an extraordinary site. Try to plan your visit early in the morning in order to enjoy a beautiful sunrise over sea and avoid the dozens of tourist coaches arriving from Cancun. After your visit, head towards the beach: it is enormous, lined with palm-trees, and brimming with fine sand and turquoise water… a taste of paradise!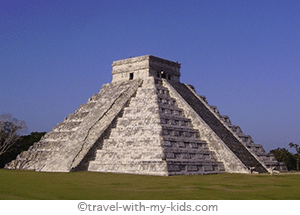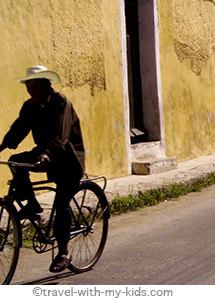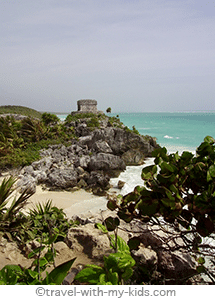 Yucantan's family accommodations
There are many charming hotels in Mexico, from the imposing colonial style constructions to shaded patios, to little bungalows on the beach… An advantage for families: most of the hotels offers a wide family room, with two double beds. All the selected hotels have a swimming pool.
In Merida, Hotel Mision de Fray Diego*****: a small establishment, full of charm, in an old, restored convent of the XVIIth century. Very well located, a few hundred metres away from Merida's historical centre, with a small pool. Rooms with two double beds, and no supplement fee for two children up to ten years old, when they stay in their parents' room.
In Valladolid, Hotel Meson del Marqués*****: a beautiful colonial building of the XVIIth century, located on Zocalo, the central square of the city. A pretty swimming pool and more importantly, a lovely interior patio where you can dine and drink excellent margaritas! Room with two double beds for families. Truly the best hotel in Valladolid.
In Izamal, Macan ché***: a charming B&B with bungalows in a big tropical garden. The room decoration is a bit kitsch, but the bungalows are large and very pleasant for a family stay, with small private terraces, and of course, a hammock… Pretty pool in the midst of green foliage. You can also dine there. www.macanche.com
In Chichen-Itza, Villas archeologicas***: ideally located, practically at the feet of the Chichen Itza pyramid! In the 'hacienda' style, with a large and pretty swimming pool surrounded by greenery. Connecting bedrooms (identical establishments in Uxmal and in Coba).
In Tulum, in the village: Hotel Don Diego de la Selva***. Inside a nice tropical garden, a few large, air-conditioned, family rooms (two big double beds), with a small private terrace and a hammock. Delicious breakfasts, with home-made cakes and exotic fruit juices. Nice swimming pool. 
In Tulum you can also sleep on the beach, almost like Robinson Crusoe, in bungalows called 'cabanas', and wake up every morning on a splendid desert beach… The comfort is simpler, and there is no electricity throughout the night. If your children are old enough, why not spend a night or two? Cabanas la Luna, six cabanas standing in fine sand, or Cabanas la Conchita and its excellent breakfasts… A little taste of paradise, when you can contemplate the turquoise sea while lying in your hammock! (reserve well in advance)
In the natural reserve of Sian Ka'an: you can spend the night at Xamach Dos. A rustic paradise on the beach: the place to unplug from our crazy lives!

 Eating with kids in the Yucatan
There are many delicious things to taste with your children as you travel in Mexico! 'Tacos', 'fajitas', avocado 'guacamole', 'uevos revueltos' (omelettes), 'papas fritas' (french fries), exotic fruits… a treat!
For lunch:
In Cancun: the restaurant chain 100% Natural. Lots of tasty fresh vegetables, little home-baked breads, large exotic fruit juices (and no Coke, for once!). Ave. Sunyaxchen, lote 62, Cancun (also in Tulum, Merida, Playa del Carmen…)
In Tulum, on the beach, many little 'palapas' where you can snack and taste an agua de fruta…
For dinner:
In Valladolid: the best 'margaritas' of the Yucatan, at the restaurant of the Hotel El Meson del Marqués, on the main square of the city, in a décor worthy of Zorro. You can have a nice dinner there, under the arcades of a beautiful colonial building. The other restaurant of the square, under the arcades, is also quite good, but less refined and in a more common setting (it is thus also cheaper!!)
In Tulum, Zamas: the children's favorite. Delicious wood-fired pizzas a few steps from the beach, with regular concerts at night. The place is pleasant, and you can listen to the sound of the waves simultaneously to a reggae or rock concert… (Carretera Tulum-Boca Paila | Km 5, Tulum, i.e. along the beach as you are heading South)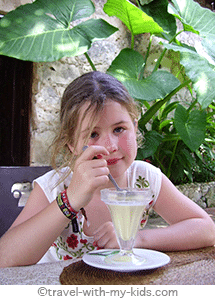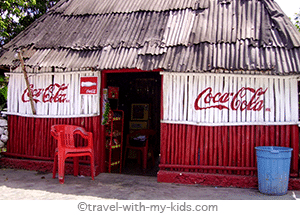 What we liked less
Cancun: simply avoid it! Unless you are a fan of 'all-inclusive resorts' and do not wish to discover anything Mexican…
Otherwise, we mostly have regrets, as there is so much to visit in Yucatan with kids! It is impossible to see everything, and you will run the risk of tiring the children, even if you practice an 'alternating' system: one visit in the morning or the late afternoon to avoid the heat, coupled with beach or swimming pool time.

 Tips
If you can, try to arrive in the Yucatan via Merida, which is a thousand times more beautiful and interesting than Cancun! Located 1500 kilometers from Mexico City, frequent route with domestic flights. Unfortunatly we didn't knew it! So our trip began in Cancun – Valladolid – Chichen Itza – Uxmal – Izamal – Merida – Tulum
We travelled with a rented car. The roads of the Yucatan are well maintained, there is little traffic, and the distances between the sites are reasonable. Good news for children: the roads are straight, flat, and without turns – sometimes almost monotonous! – but at least no one will feel nauseous.
The ideal season for discovering the Yucatan with kids is the 'dry season': during Christmas break, or even better, during the month of February, when the Maya Riviera's temperature is 30° Celsius at noon! The summer, as in all tropical countries, is not the best season for traveling (rain, tropical storms…).
In terms of health: avoid tap water and choose bottled mineral water instead.
There are almost no mosquitoes during the dry season! Nevertheless, it is better to be protected at night-time: mosquito repellent, trousers, and long sleeves, but it is unnecessary to take anti-malaria treatments.
In terms of security: the Yucatan is a very touristy region, safe and equipped with a 'tourist police'. Naturally, you must respect usual caution rules: no jewellery, no flashy and tempting watches or cameras, and no car journeys at night.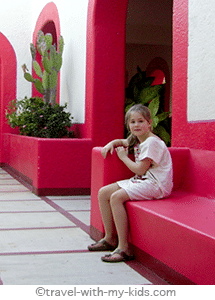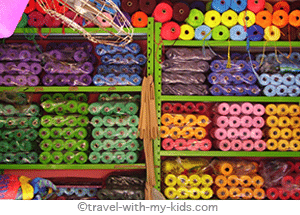 Don't forget to bring
swimsuits, masks, hats, and sunscreen

light, long-sleeved shirts and trousers for the evening

mosquito repellent

a few toys (you can find balls, paper and pencils on location)

a basic first aid kit

an electric plug adaptor (plug are the same than in US)

a complete travel guide

Our favorite children's books about Yucatan: The Ancient Maya (True Books)
Enjoy the trip to the Yucatan with your kids!