Travel with kids : Rome with kids (Italy)
Lancelot (3), Ysé (8), Balthazar (11)
and their parents in Rome
Museums, palaces, churches, fountains: so many wonders to discover with your children in Rome! A fabulous destination for a family trip…
 What we loved to do in Rome with kids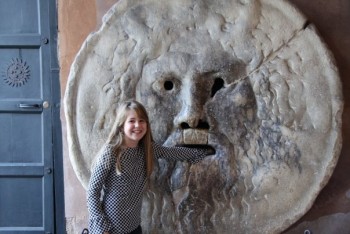 Our favorite places in Rome with kids
 

What we loved to do in Rome with kids
Walking around Trastevere, a charming neighbourhood, not so much for its monuments, but thanks to its atmosphere. You will often want to return there, by day and by night: a small, quiet, and picturesque Roman district, with its paved lanes, red and ochre facades, and little squares. Plenty of cafes, restaurants, and of course ice cream parlours to discover as you wander about…
Making a wish at the 'celebrissima' Trevi Fountain, the one in which Anita Ekberg takes a bath dressed in her evening gown, in Fellini's 'La Dolce Vita'! It is impressive for its Baroque beauty and its size, as the fountain covers practically the entire surface of the square. The tradition is also very amusing for children, as it consists in throwing two coins in the water while turning your back to the fountain: one coin to make sure you will return to Rome, and another one for your wish. Prepare a fare amount of coins, as children seem to never grow tired of doing this.
Becoming a gladiator for one day: that's what the Gladiator School is about! A great educational and fun activity that our son enjoyed a lot! It starts with a small museum visit to discover the gladiators' weapons (and try the incredibly heavy helmets!), then kids will practice in a small arena, dressed like gladiators, with a wooden sword. The instructor teaches a few basic skills before the final tournament. This is how to make history alive! You can book online and check-out our more complete review.
Picnicking in the Park of the Villa Borghese, one of Rome's largest green spaces. It is the ideal spot to relax in the shade of the magnificent stone pines. There is a little playground near the Racetracks, and many lawns waiting for you. A small piece of advice: try to arrive via the North entrance (Villa Borghese) in order to walk downhill, as the upward slope is very steep if you are carrying around children, a picnic, and a pushchair! Bicycles and 'valentines' (for 4/5) can be rented, and small boat tours on the charming little lake can be organised.
Shivering in the catacombs: during the summer, it is the coolest place in Rome! These ancient underground cemeteries are to be found along the Via Appia Antica, as Roman law used to forbid the presence of graves within the city. Shudders are guaranteed as far as kids are concerned, but this type of 'gore' remains quite bearable! As you leave, go on a walk following the beautiful Via Appia Antica, St. Sebastian Catacomb – Via Appia Antica, 136 (closed on Sunday), St. Callixte Catacomb – Via Appia Antica, 126 (closed on Wednesday). Timetable: 9am – noon / 2pm – 5 pm.
Admiring Rome from the Gianicolo, 'Rome's balcony'. From the Paola fountain, or higher up, on the Piazzale Garibaldi, you will discover an exceptional panorama, best enjoyed during sunset. At the top of the hill, don't miss the charming park of the Villa Doria Pamphili (entrance Via de San Pancrazio, after Porta San Pancrazio): 180 hectares of lawn where children can run, with palm trees and stone pines… Also an ideal place to picnic.
Swimming on the beach: the closest is the 'Ostia' Lido. However, it was not our favorite: fifteen rows of deckchairs in front of not-so-turquoise water, with the roadside transformed into a gigantic parking lot… If you have a car, once in Ostia, head north a little further to Fregene, Maccarese (close to Fiumicino airport) or Santa Marinella. Or to the south, where you'll find the 'cancelli', entrances to private beaches. In most of these places, there are restaurants where you can enjoy 'scampi fritti' or 'spaghetti alle vongole' (clams), cafe on the beach where you can enjoy cocktail hour, watch the sun set into the sea, while the children can continue to play in the sand right in front of you.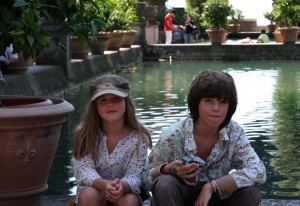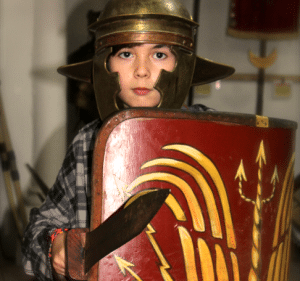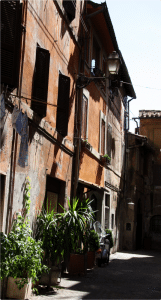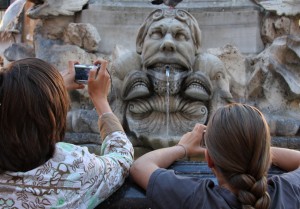 Our favorite places in Rome with kids
The Colosseum: if there were only one monument to visit with your children in Rome, that would be it. This immense stone amphitheatre used to welcome up to 80000 spectators, who hurried in to watch the famous gladiator combats. One can picture, underneath a vast white velum, the terraces jam-packed with Romans in their togas, the emperor in his rostrum, the sand stirring in the arena, and the crowd quivering as the gladiators approach… Our tip would be to buy your tickets in advance on the Internet to avoid queuing. In the summer, there can be up to three hours of waiting time until arriving at the cash desk!
The Vatican and Saint Peter's Basilica: the biggest church of Christendom, designed by Michelangelo, and the most famous one as it is the Pope's. Arrive very early, as you will not be the only ones there! Ladies, cover your shoulders, or you will not be allowed in (the doorman is inflexible). Inside the Basilica, there are a few must-sees: the gigantic stoup which could have been an accessory in 'Honey, I Shrunk the Kids', Saint Peter's tomb, Michelangelo's sublime white marble Pietà, and the dome on which you can read the famous sentence in gold mosaic: 'You are Peter and on this rock I shall build my church'. Outside are the Swiss guards and their surprising uniforms, the columns on Saint Peter's Square, and the densest concentration ever of nuns per square metre.
The Pantheon: the best preserved monument of Ancient Rome, remarkable for its dome built by pouring concrete in one go (a substantial technical achievement, 18 centuries before the invention of reinforced concrete!). Thus, you can admire the beautiful cupola and its central opening with a view of the sky, before leaving to go find some excellent gelato. The neighbourhood institution is 'Giolitti'. Their ice cream is very tasty, but you must push your way through while holding five cones in your hand, in order to weave your way out of groups of Japanese tourists. We preferred Della palma, via della Maddalena. From there, you can walk to the nearby Trevi Fountain.
La 'Bocca della Verità' (the 'Mouth of truth'): an ancient marble mask, walled in the facade of the portico of Santa Maria in Cosmedin church, made famous by the film 'Roman Holiday' starring Audrey Hepburn. This bearded male face might have been a fountain, or a sewer drain… anyhow, a Roman legend attributes to the sculpture the powers of a lie detector: you can insert your hand inside, but it will bite the fingers of liars! Our children seemed very reticent as they attempted the experience: strange, isn't it?!
The 'Domus Romane' of Palazzo Valentini: a fascinating trip to the Ancient Rome! The remains of the patrician house of imperial Rome are recreated with virtual reconstructions, graphics and videos. You can see walls decorations, rooms, peristyles, kitchens, baths, furnishings and polychrome floors all come back to life. This virtual tour of a great 'Domus' of ancient Rome is really interesting for children… and parents! Afternoon english speaking guided tours, limited entrance: it's highly recommended to purchase your ticket online.  Palazzo Valentini, Via IV Novembre 119/A (not far from the Trajan's Forum Museum entrance)
The Via Appia Antica: at a distance from the center, it is the most famous ancient street in Rome. A pretty walk, particularly on a Sunday, when it becomes entirely pedestrian: large Roman cobblestones (not recommended with a stroller!), tall stone pines and cypresses, all of which in a peaceful and bucolic atmosphere. You will get a feel of the countryside, although the street is still in the middle of the urban zone. The best is to start your walk from the catacombs of San Callisto to avoid the first stretch of the street which remains open to traffic.
Ostia Antica: in the heart of a splendid park, the vestiges of the ancient harbour city of the Roman Empire, where about 100000 people used to live. The place is very charming and makes it easy to imagine Roman citizens heading towards a temple, the gymnasium, or the market… Make sure not to miss: the mosaics of the Neptune Baths (n°8 on the map) / the theater (n°13) / the Corporations square (n°14) / the Thermopolium: the Roman version of a snack-bar with its intact counter (n°28) / and the very amusing public toilets (forica, n°29). Do try to arrive early in the morning to be almost alone, or late in he afternoon to avoid the hottest hours of the day. There are fountains to quench your thirst, and a cafe for a little break. Closed on Monday. By metro, take line B to Piramide, and then a train to Ostia Antica (about 30 minutes). 
The Villa d'Este, a lovely villa, surrounded by terrace gardens, famous for their water games: fountains, basins, cascades… altogether, over a hundred of them! It is ideal if you are searching for a little bit of coolness. The children loved watching the carps swimming in the superb ponds hedged with lemon trees. Beware though, as the many steps (which lead you down… and then back up!) can become quite tiring with a stroller! In Tivoli, there is also Hadrian's Villa, which is less appropriate for a visit with young children: the site is extremely vast, there are multiple steps, and no fountains around… Tivoli is accessible by metro: line B to Ponte Mammolo, and then a bus to Tivoli. The Villa d'Este is right next to the bus stop.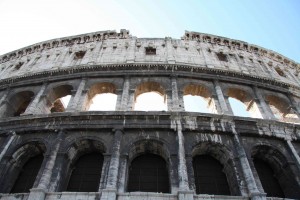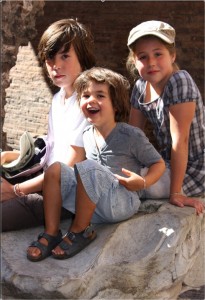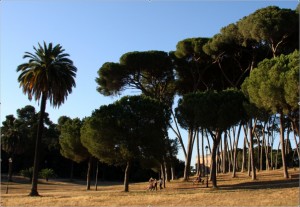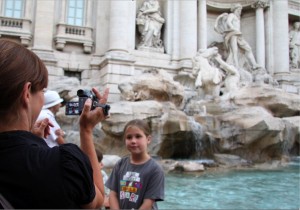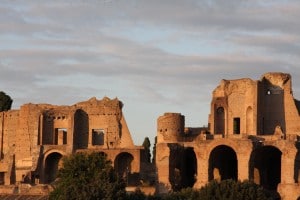 Rome

 family accommodations, hotels and apartments
In Rome with kids, the most enjoyable solution is perhaps to rent a flat in the centre of the city. It is very practical and more economical when you are travelling as a family. We tested Friendly Rentals and would recommend it: a large choice of pretty, spacious, and well-located apartments, some with lovely terraces. No bad surprises, everything looks just like in the photographs. Moreover, it feels great to be able to dine at home when the children are tired after a long day of visiting…
A hotel close to the Vatican: very well located in the relatively fancy and non-touristy neighbourhood of Prati; Hotel Isa is a 15 minute walk away from the Vatican. It offers a family suite with two connected independent rooms (and two bathrooms), comfortable and ideal if you are travelling with two older children or teenagers. There is also a great (included) breakfast, served on the roof terrace, with a view of Saint Peter's cupola! 
Close to the Termini train station: Hotel Alpi, very well located if you are visiting the historical centre (15/20 minute walk from the Colosseum) or heading toward the Villa Borghese gardens. Quadruple family rooms, also with a nice terrace. Very good price-quality ratio.
In Trastevere: Relais le Clarisse, a small 'pensione' on the first floor of a flowered courtyard, with only five, ground-level rooms. It is clean, calm, situated in a lovely neighbourhood, and offers good breakfasts… we truly enjoyed this address. Suites for four people, reserve well in advance as it fills up quickly. 
Also in Trastevere, Hotel Trilussa Palace: in a very charming neighbourhood, a pretty and elegant hotel with family rooms (for two adults and two children).

 Eating with kids in Rome  
Everything will tempt you: pizza, gelato, pasta, bruschette, and so on. The children really enjoyed picnicking in the beautiful Roman parks (Villa Borghese, or Villa Doria Pamphili). Another simple solution is also to eat on a bench or in park a slice of pizza (pizza al taglio) or 'suplis', a Roman speciality (breaded rice and mozzarella croquettes): very sustaining, for only 1€!
For snack time, gelato of course! You will always be able to choose between twenty flavours, a 'panna' topping for the bigger eaters, and three different sizes and types of cones. There are so many ice cream parlours in Rome that there will always be something for everyone. A few yummy spots: in the Trevi Foutain's zone: Gelato Di San Crispino (via della Panetteria 42), near 'Repubblica': Gelateria Romana (via XX Settembre, 60), not far from 'Piazza del Popolo': Venchi for the chocolate flavour (Via della Croce,25), near 'Via Veneto': Come il latte (Via Silvio Spaventa, 24/26) for the salted caramel, in 'Prati' zone: Gelateria dei Gracchi (Via dei Gracchi, 272)…
To dine as a family in Trastevere: our favorite was the pizzeria Dar Poeta, Vicolo del Bologna, 45. In a charming little alley, a very simple restaurant with red and white chequered tablecloths and, more importantly, fantastic pizzas! So naturally, it is always packed. Reservations aren't an option, people just wait on the street, and we perfectly understand why. Come early and avoid a long wait.
Le Cave Canem, piazza San Callisto, is quite nice, with a good price-quality ratio. However, do avoid the Pizzeria San Callisto which is close to the former. You will wait a long while to be served, the pizzas are mediocre, the waiters rude, and the toilets disgusting.
In the historical center, Gusto, piazza Augusto Imperatore, 9 (near Ara Pacis) : pleasant atmosphere in a spacious spot, more trendy than the classical 'trattoria'. Pizzas, and especially 'white pizzas' (without tomato sauce) are tasty. Great wine list and a lot of outdoors tables. Pay attention, there are several 'Gusto' on the piazza : pizzeria, restaurant (much more expensive), osteria… With kids, we recommend pizzeria.
In the 'Jewish Ghetto', we love Nonna Betta (Via del Portico d'Ottavia, 16) : don't miss the fabulous whole fried artichokes, 'carciofi alla giudia', a traditional Roman Jewish-style recipe. In fact, everything with artichoke is delicious at Nonna Betta. Also a tasty plate of various dessert.  Friendly service and an amazing location, at the Ancient Rome's 'Portico d'Ottavia'. Bonus : the area is closed to the cars, so little ones can walk around safely!
Not right in the center, but right in the Villa Torlonia's Park, you can have pizzas on a nice terrace surrounded by lemon trees : La Limonania,  Via Lazzaro Spallanzani, 1. Great in hot summer's evening!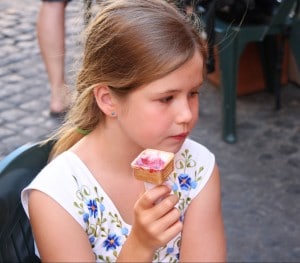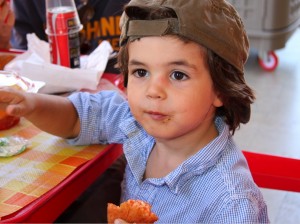 What we liked less
With heavy hearts, we gave up on taking the children to the Vatican museums, including the Sixtine Chapel. Big mistake not to have baught the tickets online (that allows to skip the line): during the summer, you can wait on line for many hours… Not to make the same mistake, buy your tickets online !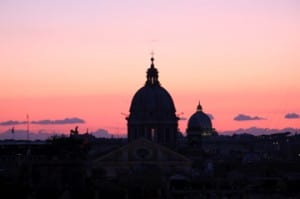 Tips
The best seasons for visiting Rome are spring and autumn, which come with beautiful sunsets. But we were there for the first time in summer, which is lovely but hot! A good reason to have a lot of italian ice-cream!
About the RomaPass card (valid for 2 days from its activation) : for 28€, you get only one free entrance to one site or museum (including a non-queue pass), a reduced fee for the following visits (except for the Vatican) and it will give you free access to all Roman transportation. You can purchase it directly at the cash desks of the sites and museums. However, it is not useful for children, as they travel for free until ten, and do not need to pay for most museums and sites.
In terms of transportation within the city, buses and tramways are practical (metros are virtually non-existent). Children up to 10 years old do not pay. You can purchase simple tickets (1,50€ the journey) or other, more advantageous formulae (one day, three days, weekly passes) in the metro stations, in bars, at booths and at newsagents.
There is a fixed rate for taxis travelling between Rome (center) and Fiumicino airport of 48€. Watch out though, as only certain taxis (such as the Fiat Multipla types) are authorised to take five people. Otherwise, the 'Leonardo Express' train, arriving at Termini Station, is very convenient.
Renting a car can be nice in summer if you wish to discover areas around Rome (Tivoli, Ostia Antica, various beaches…). Yet it is forbidden to drive a car inside the historical centre (ZTL Zona)!
The water in the Roman fountains is drinkable, always fresh, and free: do not hesitate to fill your bottles!
If ever you need to consult a pediatrician, even for an emergency, the Bambino Gesu Ospedale Pediatrico (Bambino Gesu Children's Hospital) on the Gianicolo hill is a public hospital equipped to handle emergencies. Call 118 for an ambulance if needed.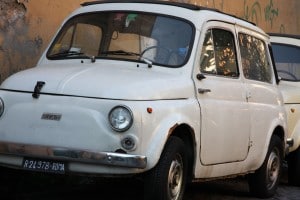 an electric plug adaptor

comfortable walking shoes

a wrap for visiting churches (women's shoulders must be covered in Saint Peter's Basilica)

mosquito repelent in summer (but you can find some also in Rome) 
Our favorite children books about Rome:
The book specially featured for them: Not For Parents Rome: Everything You Ever Wanted to Know (Lonely Planet Not for Parents)
. It covers a wide range of topics: facts and story about the city, architectural highlights, interesting streets and districts, famous works of art, food and fashion of ancient Rome…. Full colour, with many photographs and illustrations : anything but boring!
The timeless classic This is Rome
, by Miroslav Sasek. Charming illustrations, coupled with Sasek's playful narrative, that will delight both children and their parents!
A great introduction to ancient Rome and Roman culture, as an historical and enjoyable novel: The Thieves of Ostia (The Roman Mysteries)
 is the first of an amazing series of six exciting mystery adventures.
For the little ones, we like Molly goes to Rome (with her magic suitcase!), a nicely illustrated and colorful book to discover italian culture. Perfect mix of enjoyment and learning!
And have a wonderful trip to Rome with kids!