Travel with kids: Paris with kids (France) 
Alexandre (8), Fanny (12)
 and their parents in Paris
Discovering one of the most beautiful cities in the world, with so many monuments and famous pla
ce
s to enjoy with your family!
 What we loved to do in Paris with kids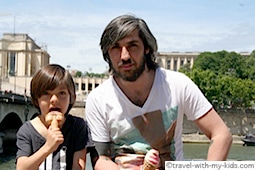 Our favorite places in Paris with kids
 What we loved to do in Paris with kids
To walk up to the 2nd floor of the Eiffel Tower! First because it avoids queuing at the elevators, then because it's really very beautiful to be inside the structure. The view of Paris is spectacular from the 2nd floor, 115 meters high – the bravest and oldest will be amazed by the 3rd floor, 276 meters high! A little booklet, made for 6 to 10 year olds, offers adapted information to learn more about the place and its creator: withdraw it on the 1st floor of the Tower, at the "Cineiffel". To skip the line, you may purchase your tickets directly on the official website (elevator tickets). The Eiffel Tower is open every day from 9:30am to 11:00pm. It might also be a good idea to go to there at sunset and discover the enlightened city…
Go for sightseeing on Seine river cruise : nice, a seated promenade! The river boats are a different and quiet way to discover Paris, and in particular to discover the historical center: Palais de Justice, Notre Dame, the Island of La Cité, quays of the Saint-Louis island… Cruising lasts approximately one hour, and the children really enjoy it very much. Departure on the quays at Pont de l'Alma's (across from the Eiffel Tower), or at the Pont-Neuf. Include in the Paris pass
.
Take the small funicular to discover the Sacré Coeur, then wander around the Montmartre area. A funny way with kids to go up to the top of the Butte Montmartre and to climb the equivalent of 220 steps! Place du Tertre is not the important place for painting it once was, and you'll see more bad painting than any Toulouse-Lautrec, Modigliani or Picasso… but the place is really pretty, and the small houses in the charming streets around, allow you to imagine what Paris might once have looked like. A very pleasant stroll. Departure of the funicular: Place Saint-Pierre, 75018 (subway station : Anvers), access with a subway ticket. 
To organize a picnic in the Palace of Versailles' park! We started with the visit of the castle: the King's room, the Queen's room, the marvelous "Galerie des Glaces"… An audio-guide for the children (from 8 years) is provided at the entry. The kids really like the visit, it is not too long. Then we can enjoy a pastoral meal in the picnic area. The best is to discover the park during « les grandes eaux » (Saturday and Sunday, from April to October), when all the park's fountains are working: wonderful! You can also ride a boat along the water or rent bicycles to ride in the park. To avoid waiting in line, buy your ticket online (it is also include in the Paris Pass).
To see Mona Lisa in the Louvre Museum: useless to specify it, with children, it's necessary to choose among the 35.000 art works presented in this gigantic palace! Among those, the department of Egyptian Antiquities, with its splendid sarcophagus, interests children greatly. You need to go past many paintings before seeing the Mona Lisa, and some other master pieces:the Radeau de la Méduse by Géricault, La liberté guidant le peuple by Delacroix, and the beautiful Venus de Milo and Victoire de Samothrace… quite a good walk! Underneath the Pyramid,in the Allee du Louvre, the bookshop "Les enfants du Musée" offers a great choice of books on art and educational and cultural plays, also in english. The museum is open every day except on Tuesdays. Purchasing tickets online with the Paris pass
 will keep you from waiting.
Perfect to slacken after a visit of the museum, a walk in the Tuileries Gardens towards the Place de la Concorde. Along the way, different activities for the children: adventure playgrounds, merry-go-round, ponies, trampolines…
 Our favorite places in Paris with kids
The Grande Galerie de l'Evolution, in the Museum of Natural History. A splendid place: in the entrance, you are bluffed by the whale's skeleton hanging from the ceiling. In the central big room, a spectacular parade of stuffed animals: giraffes, elephants, hippopotamuses, tortoises… a procession worthy of Ice Age ! Nearby, for teen-agers, a permanent exhibit: the diversity of the living species is explained along with the evolution of the organizations and the genetics. Museum d'Histoire Naturelle: 36, rue Geoffroy Saint Hilaire 75005 Paris – Opened every day from 10:00am to 6:00pm, closed on Tuesdays.
As you leave, you should walk through the Botanical garden (Jardin des Plantes), where there are plenty of things to do for young people: adventure playground, old and pretty merry-go-round, and the menagerie (small zoo) with its orang-outang, Nénette, a real star! Lastly, very close is the Paris Mosque and its tea room to taste mint tea and oriental pastries (39, rue Geoffroy Saint Hilaire).
The Conciergerie and the Sainte Chapelle: the children appreciated the guided visit especially adapted to children (approximately one hour) of the first residence of the Kings of France, also famous to have been Marie-Antoinette's jail during the Revolution. A section of the history which impassionates them! At the Sainte-Chapelle, a splendid Gothic Church, a document designed for children (from 7 to 8 year olds) indicates the most interesting parts, explains who are the characters on the stained glass, and makes it possible to observe actively! Afterwards, you can go to Notre Dame Cathedral (10 minutes walking), at least on the square to contemplate the splendid frontage. And after all these beautiful things, time for a reward : an ice cream at Berthillon! (the best ice-cream parlor in Paris, on the Ile Saint-Louis : 29, rue Saint-Louis en l'Ile). Conciergerie: 2, boulevard du Palais 75001 Paris – Opened every day
The Luxembourg Gardens: it is the largest park in Paris, in the heart of the Quartier Latin. Of course, you can simply walk through the gardens "à la française", or lie down on the lawn, but there are also many things to do for children: eat a good waffle, go on a swing, crawl around the playground or ride a pony… Our very favorites: for the small ones, the puppet theatre, a real institution, for the oldest, miniature sailing ships (for rent) that you push with a stick and watch them gliding on the large central pond… all the charm of old amusements!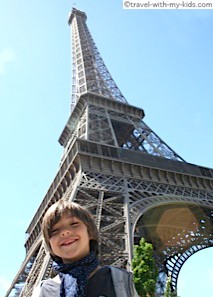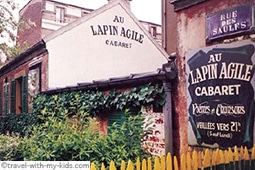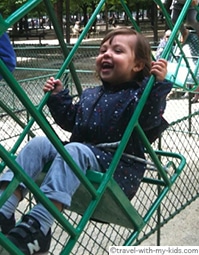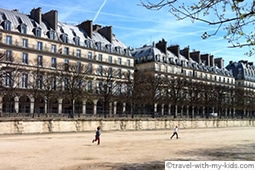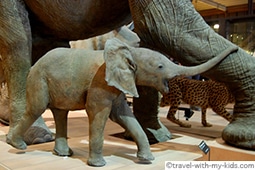 Paris family accommodations, hotels and apartments
The very best solution with children: to rent an apartment! It is more roomy, more comfortable, more economical because you can eat there, more practical because you've got a washing machine, in short, full of advantages for families! And it is really pleasant to be able to rest, as if at home, after a long day of visits… You can check-out VRBO
's website, that offers a great range of pretty apartments for families. We also recommend the Friendly Rentals ones, well located and well equipped.
Here is also our selection of hotels in Paris which offer rooms that can accommodates families with children:
(Center) Novotel Paris Les Halles ****: Modern hotel, located in the middle of Paris in the Halles district, five minutes away from the Forum, the Centre Pompidou, and the Marais area. Very positive ratio price quality for families: superior room with 1 double bed and a sofa-bed. The breakfast is nice but a little expensive, you might choose to have it outside! 
(Opera disctrict) Hôtel Alba Opera *** : Located in a quiet street, between Opéra and Montmartre, the hotel offers families a roomy Junior Suite (40 m2) with living room equipped of a sofa bed for two, twin beds, kitchen and bathroom with bath-tub. Very calm, they look onto a privative courtyard. Very close, Rose Bakery, a tea room with delicious salads and home made pastries, and brunch on Sundays (46 rue des Martyrs – 75009)
(Gare de Lyon) Hotel Lyon Terminus *** : Located just opposite of the Gare de Lyon train station, very close to the subway station, a simple hotel with a good ratio price quality. Clean, calm, nice for a short stay in Paris. Rooms for 4 breakfast included. The hotel also offers communicating rooms, for families with 3 children. 
(Trocadéro) Hotel Pergolèse ****: In a smart district, close to the Arc de Triomphe, this modern and refined hotel offers family rooms made up of two communicating rooms (one with a double bed, the other with twin beds), 2 bathrooms and a privative entry. 
 It can accomodate up to 5 people. Ideal with teen-agers or big families! 
(République) Crowne Plaza Paris Republique **** : A large comfortable hotel, located on the Place de la République, 10 minutes away from Bastille and the Marais district. Pretty interior courtyard for sunny days.  Interesting prices for families: room for 4 with 2 double beds , without breakfast (the price of the breakfast is extra, may be better to buy a good croissant at the bakery nearby…)
(Luxembourg) Hôtel Le Petit Belloy Saint Germain **: Pretty, small boutique hotel in the heart of the Quartier Latin. Excellent location near the Luxembourg Garden, the Saint-Germain-des-Prés area, the Louvre and Notre-Dame. The rooms are decorated with taste. Quality positive ratio/price: two communicating rooms, for 4 people, breakfasts included. 
(Saint-Michel) Hotel des Mines ** : Small hotel very well located, right near the Luxembourg Garden and close from Notre-Dame. Nothing exceptional, basic but clean, well kept up, and reasonable prices! The quadruple room looks onto a very quiet courtyard.
(Saint-Germain-des-Prés) Best Western Left Bank Saint Germain*** : An excellent location in the heart of the Saint-Germain-des-Prés area for this charming little hotel decorated as an old mansion, with antique furniture and even Aubusson tapestries in the lobby. Nice quadruple room for four guests, with a view on the flowered courtyard… quite romantic ! 
 

Eating with kids in Paris
The picnic solution is really nice with kids, in a large park (Luxembourg gardens, Versailles…) or in one of the many small public gardens of the district you are staying in. If the sun is not shining, you will find a lot of « cafés » where you can nibble: croque-monsieur, french fries, etc.
Also, in the Marais area: The Swedish Cultural Center, holds a lovely cafe in the paved courtyard of a superb XVIIth century mansion, particularly well adapted to kids: high chairs for the small ones, books and, more, a court where you can run! Really a very pleasant place, which offers delicious homemade pastries, fresh sandwiches, seasonable vegetable gratins and hot brioches with cinnamon 
Le Café Suédois, 11, rue Payenne, 75003 Paris (closed on Monday, from Tuesday to Sunday 12 :00 -06 :00 pm)
Kids love Chinese restaurants ! They eat (or try to) with chopsticks, the environment is very relaxed, and there are always large aquariums where they have fun looking at fish. In the north of Paris, in the Belleville district, we like New Nioullaville, a huge canteen with trolleys full of "dim sum", and in the south part of Paris, in "Chinatown",  go to Tricotin. And for Asian kitchen lovers, don't miss Tang Frères, the huge Asian supermarket where unearthly sauces and spices can be found: not to miss! (48 avenue d'Ivry, 750013 – closed on Monday)
New Nioullaville: 32 – 34, rue de l'Orillon 75011 Paris 01 40 21 98 38
Tricotin: 15 avenue de Choisy 75013 Paris 0145855152 (closed on Tuesday)
Less exotic, but very nice with the family: Coffee Parisien. Good hamburgers, clubs sandwiches and salads at reasonable prices can be eaten there. A relaxed and animated environment as well, in a pretty fifties style decor, with red benches and posters on the walls. In the district of Saint-Germain-des-Prés:
Coffee Parisien, 4, rue Princesse – 75006 – 0143541960
Not far from the Eiffel Tower, therefore ideal after a visit: the Tokyo Eat, restaurant of the Palais de Tokyo, inside the Museum of Contemporary Art. If the weather allows it, the terrace in front of Eiffel Tower is very beautiful, if not, your children will appreciate the trendy déco of the huge room with rough concrete walls, flashy neons and lights that resemble flying-saucers! A hype place, but pleasant with a family, with plenty of space for the small ones who want to move around…
Tokyo Eat: 13, av. du Président Wilson, 75016 Paris, 01 47 20 00 20, subway : Iéna, open every day except Monday, from 12:00 to 1:00 am.
For a gastronomical dinner (or lunch): restaurant Drouant. If you want to treat yourself with a rather exceptional meal with your family, this famous Parisian restaurant offers menus starting at 15 euros enabling young food gastonomes to discover the great French cuisine. More: the dishes are proportional to the size of the little ones!
Drouant: 16-18 rue Gaillon, 75002 Paris, subway : Opéra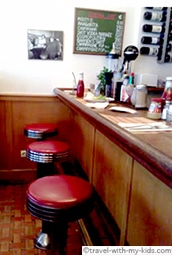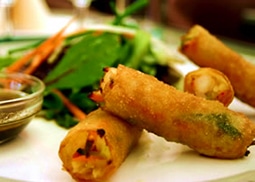 What we liked less
Rather regrets: not to have had time to go to the City of Sciences at La Villette, in particular the workshops of the Cité des Enfants (2 to 7 years old and 5 to 12 years old), devoted to discovered sciences and technology (reservation are advised on the website)
Not to be have gone inside Notre Dame Cathedral, discouraged by the line!
XXX

 Tips
To save time and money, we highly recommend the Paris pass
purchase, a very attractive and convenient package. Paris Pass includes :
–free entry to the best museums (Louvre, Orsay, Sainte-Chapelle, Versailles, Notre Dame Cathedral, Centre Pompidou…) with a fast track entry at Louvre, Orsay and Centre Pompidou, a Seine boat river cruise…
–free travelcard for public transport (metro and buses), unlimited journeys
To travel in Paris with kids, the subway network is very convenient, but the buses allow sightseeing as well : our favorite means of transportation!
Spring and summer are very pleasant to visit Paris with kids because you are able to sit at the numerous cafes' terraces, enjoy the parks and outdoor plays… (we spent 4 days, in april). In August, much of the Parisians leave the city, you'll discover another aspect of Paris, which is not without charm.
Like in all the big capitals, pickpockets love crowds: be attentive to your bags and cameras in tourist areas and in the subway.
If you need to consult a pediatrician for an emergency, two excellent services of pediatric emergencies in Paris, open 24 hours a day:
Necker Hospital – emergencies: 01 44 49 42 90 – 149, rue de Sèvres, 75015
Hospital Trousseau – emergencies: 01 44 73 74 75 – 26, avenue du Docteur Arnold-Netter, 75012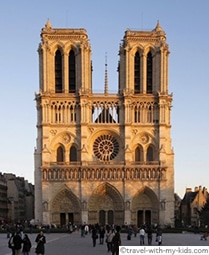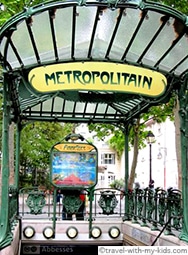 Don't forget to bring
Our favorite children books about Paris :
-The Lonely Planet specially featured for kids: Not For Parents Paris: Everything You Ever Wanted to Know (Lonely Planet Not for Parents)
. It covers a wide range of topics: the history of the city, architectural highlights, interesting streets and districts, quirky shops, famous works of art, the everyday lives of Parisians…. Full color, with many photographs and illustrations : anything but boring!
-We also love the kid-friendly guide Fodor's Around Paris with Kids (Travel Guide)
. Very complete, with almost all the activities you can do with kids in Paris. Useful also, suggestions for nearby places to eat.
-A coloring book about Paris: a nice and old-fashioned way to wait quietly in restaurant or to play during the evening! We like very much the hand-drawn, graphic, and vintage style of Paris Coloring Book
. Older children (8/11 years old) may appreciate the beauty of Paris landmarks and monuments drawings in Coloring Paris
. 
a plug adaptor if you come from US

and comfortable shoes!
Enjoy your trip in Paris with kids!