Travel with kids – Family travel: Venice with kids (Venezia, It

aly)
Lancelot (5), Ysé (10), Balthazar (13)
and their parents in Venice
Palaces, canals, gondolas and carnival masks, small bridges and charming campi, as Venetians call their squares
… Forget Venice for lovers, and enjoy Venice with kids!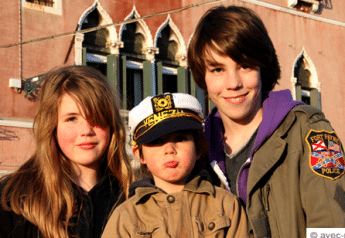 What we loved to do in Venice with kids
  Our favorite places in Venice with kids
 What we loved to do in Venice with kids
The secret visit to the Doge's Palace: a nearly one hour special tour, explained by an english speaking guide, in the "secret" places of the palace, where people cannot usually have access. Our children really loved the visit to the prisoners' dungeons, the tortures chamber and the story of Casanova's daring escape!  (for children above 7/8 years of age). The visit must be pre-booked. You can then visit the remainder of the palace freely.
To cross the Grand Canal by vaporetto and admire Venice palaces: a must! We took the vaporetto at the departure wharf of the N°1 line; we seated in the front with our noses in the wind and our children were regaled! Crossing the Grand Canal takes 40 minutes… and you can do it again in the opposite direction without wearying yourself!
To go on a tour by gondola. Yes, it is definitely expensive and terribly touristy, yet it's something magic! The 35-minute "small tour" (80€, official rate) leads you along the small peaceful canals and to the entries of the palaces at water level … something dazzling for children! A must do in Venice with kids.
To buy a carnival mask: very kitsch but children love them… You can find very pretty and traditional pulp masks, which cost around 30€ but also the commedia dell'arte and cat's face style or masks full of feathers and spangles that are very successful among young people, who wear them with pride! A nice shop in Dorsoduro with a saleswoman who's very patient with children: Ca' Macana, behind Campo San Barnaba.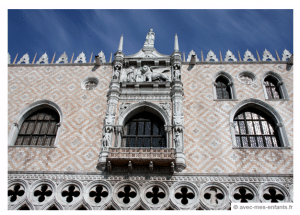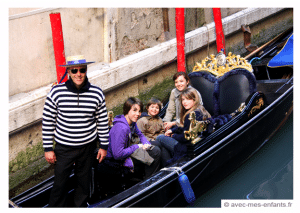 Our favorite places in Venice with kids
Campo Sant'Angelo and Campo San Stefano, in the district of San Marco: two very pretty squares where children can run after pigeons and play with no risk… while their parents are sitting on one of the nice sunny terraces, eventually drinking a 'spritz'. Really pleasant!
The Fondamenta Zattere (in Dorsoduro): fewer tourists, less crowd and a lot of charm. It is the ideal place where to take a walk along the small channels or the broad quays in front of the Giudecca in the evening. It is also perfect for an aperitif or an ice-cream on the terrace at the water level of Gelateria Nico at sunset…
Ideal place where children can play and gambol: the Castello gardens. Located in front of the gardens of Biennale (Vaporetto stop: Giardini or Biennale), they are green areas and playgrounds where children can have fun. Strolls along the broad and protected quays up to Sant'Elena island, which can be reached on foot through a small bridge, are very pleasant. A relaxing moment for children!
The Scuola San Rocco, the church of Santa Maria dei Frari and St Mark's Basilica: dazzling! It is difficult to visit Venice without going to a museum or visiting a church, even if it is probably better to plan a "light" program with children. Our favourite place: Scuola San Rocco because it is really impressive and our children enjoyed looking at the ceilings through the mirrors they were provided with. It became a game! Another beautiful church is Santa Maria dei Frari (you can find a lot of ice-cream vendors in the surroundings, which is something very important too), and of course St Mark's Basilica, a sublime church because of its golden mosaic domes. Our tip: skip the line by purchasing a ticket online (though the entrance is free, this 2€ ticket will avoid you an average waiting time of 45 minutes. Worth it !)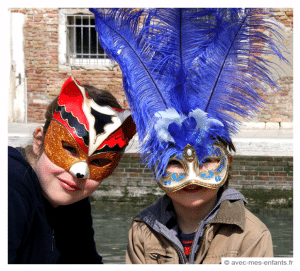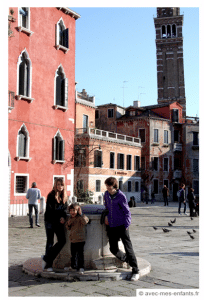 Venice family accommodations, hotels and apartments
It is not easy to find family accommodation in Venice, not even rooms available! In the holiday seasons, hotels are often full 2 or 3 months in advance. Therefore do not hesitate to book rooms for you and your children as soon as possible! Our selection:
To rent an apartment : the most comfortable solution to enjoy Venice with kids! We recommend you Friendly Rentals, that offers a wide range of apartments, conveniently located, some with canal view, roof  terrace or in a beautiful palazzo… Nicely decorated, with several bedrooms, you can enjoy eating at home, when children are tired by a big day… Cheaper, practical (washing machine for instance), with the pleasure of feeling like real Venetians for a few days!
On the Grand Canal, district of Santa Croce: Hotel San Cassiano. A nice XIV-century palace, very well located on the Grand Canal (district of Santa Croce) and away from the crowd. It is a charming hotel having an adorable small terrace on the Canal, a very pleasant reception and some family rooms for 4. Prices vary a lot depending on the season. 
In the district of Sant'Elena: Best Western Premier Hotel Sant'Elena . Far from the confusion of the tourist centre, the hotel is located in the quiet district of Sant'Elena, surrounded by green areas with adventure playgrounds: a pleasant area where children can relax and gambol after walking along the small alleys of the centre. Rooms for families (4 people), good breakfasts and care of children: teddy bears are given to the youngest children and Wii to the older! After visiting churches and museums, here's their reward! Very well served (the vaporetto stop is at 50 m and you can reach St Mark's Square in less than 10 mn), or you can have a nice 15/20-minute walk along the quays at the water level. 
Another option is sleeping in a convent: we spent a very pleasant night in the district of Dorsoduro in front of a small peaceful and charming canal. The sisters of the Istituto Canossiano are very kind to children. They provide us two adjoining rooms for 5 people with a view of the cloister. No breakfast is included but a dispenser for hot drinks is available. 

 Eating with kids in Venice
Sandwiches and pizza by the slice ('pizza al taglio') almost everywhere: the cheap solution which pleases children! Just follow your heart (and open your eyes) to choose the freshest and nicest ones, which often are not in the touristic and busy spots.
In Dorsoduro:
(Fondamenta Zattere) Terrazza Casin dei Nobili: a small and nice pizzeria (10/12€ per pizza) located in a very pleasant district. You can stay in the Terrace facing the Giudecca if the weather allows it.
(Fondamenta San Sebastiano): Osteria da Toni. An adorable small terrace facing a canal having some tables with check tablecloths, where you can have good pasta as in the movie 'Lady and the Tramp'!
In front of the Biennale's Gardens: In Paradiso, a pretty small snack, ideal to have lunch with a sandwich (panino) or a drink at sunset within a green setting.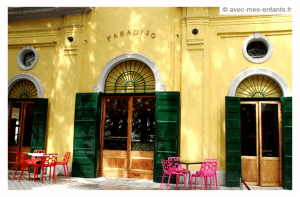 What we liked less
The price of the vaporetto! 7€ per person and there is no reduced fee for children (free under 6 years old). Very expensive for a family! The ACTV travel card, which is sold at the vaporetto ticket offices, becomes profitable when it is used over 3 journeys per day. 
To miss the glassblowers' demonstration on Murano island: all the studios were closed on Easter weekend… There are many shops selling stained glass trifles, which children are crazy about. Yet while children are having fun in the shops, their parents sweat blood and tears! It is better to go during the morning if you want to see the blowers.
The district of San Marco, neck and neck with the crowd of tourists coming from all over the world (18 million per year!). Quite hard and tiring: after visiting St Mark's Square, the Basilica and the Doge's Palace, leave quickly…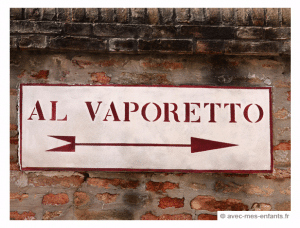 Tips
The 'traghetto' is a gondola which serves as a "public transport" means to cross the Grand Canal because there are not many bridges. The traghetto is pointed and highlighted on all city maps. A 2€-per person crossing of the canal by boat is very practical and amusing. Prams, pushchairs and dogs are accepted on board!
With its 420 bridges, which always have steps, Venice is not the ideal city to go for a walk with strollers. Strong arms are recommended! (And baby carriers, if toddlers).
While a canal cruise (or sitting along the Grand Canal), we had great fun with our kids naming all the boats crossing the canal, which are usually cars or trucks: the firemen boat, the police boat, the ambulance boat, the moving boat, the taxi boat, even the Fedex boat… as in a Richard Scarry's book!
Spring is a nice season to discover Venice with kids, we spent 3 days there for an Easter getaway. Even though, take warm clothes to enjoy canal cruise.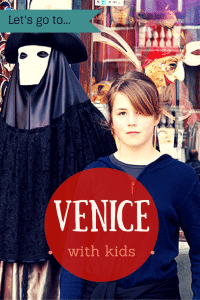 Don't forget to bring 
Rubber boots in autumn and winter -"acqua alta" (high water) times

Very comfortable shoes to walk

A raincoat and warm clothes: the wind is quickly icy on water
Our favorite children's book on Venice:
This Is Venice
, by M. Sasek. Take a trip through Venice : vaporettos, gondolas and water  taxis, the Grand Canal and beautiful marble palazzos, famous buildings and churches,  pigeons  at Piazza San Marco, and more… Fabulous illustrations, fun facts, this is a classic  picture  book !
Zoe Sophia's Scrapbook: An Adventure in Venice
 : Breezy adventures of Zoe Sophia and her dog Mickey in Venice, as she feeds the pigeons at Piazza San Marco, shops for beads and masks, and slurps hot chocolate at Caffe Florian. Zoe Sophia's scrapbook is filled with hand-written entries and lively illustrations.
For the young ones (easy readers) : Carnival at Candlelight (Magic Tree House #33)
, by Mary Pope Osborne. Back to Venice 250 years ago, right in the middle Carnival. They've got to find the Grand Lady of the Lagoon, a painter named Tiepolo, a clock with the right time, and the winged lion, before a flood destroys Venice…
And enjoy your stay in Venice with the kids!