Travel with kids : Naples with kids – Pompeii with kids- Mount Vesuvius with kids (Italy)
Lancelot (6), Ysé (11), Balthazar (14)
and their parents in Naples
XXX 
Naples is made of chaos and splendor: that's exactly why we fell in love with it! The laundry hanging across narrow lanes, the scooters sneaking, the exuberant Neapolitans, the delicious pizza, the artistic heritage, the Vesuvius and Pompeii: as it is often said, if 'Rome is Italy's heart, Naples is its soul'…
  What we loved to do in Naples with kids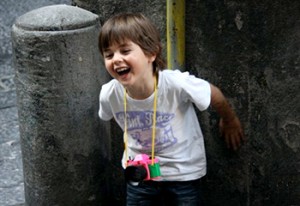 Our favorite places in Naples with kids
 Naples family hotels and rentals
 What we loved to do in Naples with kids
To take the funicular to reach Vomero heights and to discover a scenic view from the top: Naples, its bay, and the Vesuvius in the background… We took the funicular "Centrale", via Roma, with its delightful vintage station, to Castel Sant'Elmo. From there, you can easily walk down to the "Spanish Quarters", in more or less twenty minutes. The stroll is nice and easy: we followed the wide steps gently sloping ("Pedamentina San Martino"), discovering along the way beautiful villas and flowered terraces … A very peaceful moment in Naples with kids, such a lively city!
To explore the secret city that spreads below the historic center: underground Naples. Beside being a very interesting visit to learn more about the city's history, the adventure feeling highly appeals to children! The tour begins right in the historic center, from where we went down to 40 meters depth. Along the maze of tunnels, Roman aqueducts, some early Christian burial sites, air-raid shelters from the Second World War, and even the remains of a Roman theater… The tour ends lit by candle, in rather narrow passages (to avoid if claustrophobic). In summer, note that it's a nice spot to get some freshness! The 'Napoli sotteranea tour' lasts about 2 hours. Daily English tour from 10 a.m. to 6 p.m. every 2 hours. Entrance Piazza San Gaetano, 68
To stroll along the historic center, enjoying the picturesque charm of the beating heart of Naples. Walking through Via dei Tribunali and surrounding little streets, we simply enjoyed the atmosphere: the clean laundry drying up by windows, the garlands of dried tomatoes and peppers in front of "vintage" stores, the small votive chapels, the crumbling palace with their beautiful inner courtyards, the Neapolitan who speaks loud… Naples is also famous for its handicrafts of crèche and Nativity figures (presepi), specially during the Christmas period, in Via San Gregorio Armeno. Those seeking for order, luxury and cleanliness will be disappointed; others will not remain indifferent to this southern Italy atmosphere!
A word about the little red peppers that you see everywhere (bracelet, key chains, pendants, etc.): they are luckycharms! A nice souvenir to bring back from Naples!
To push the door of a church and discover the historic center's treasures: the stroll may also be an opportunity, according to the desires, to see a few art masterpieces with kids. For example, a beautiful painting by Caravaggio in the Pio Monte della Misericordia church (Via dei Tribunali, No. 253- daily from 9 am to 14h), or the magnificent statue of the Veiled Christ (Capella Sansevero, F Via de Sanctis, daily except Tuesday). You can also have a look in the church of the Gesu Nuovo, with its impressive collection of ex-voto, which manifest the popular fervor towards a sanctified doctor of the poor.
Climbing to the top of Mount Vesuvius, the famous volcano whose eruption destroyed Pompeii and Herculaneum 2000 years ago! The hike is easy enough to go with kids from 4-5 years old. By car, you reach up to two thirds of the volcano. Once parked, it remains 30/35 mn walk, climbing gently on a broad path. At the top, at 1200 meters, awaits the impressive sight of the huge crater with fumaroles escaping, because the volcano is only sleeping! It's very interesting for children to be there before visiting the site of Pompeii: realizing how much the village is right under the volcano, they understand better what happened. From the top, you will also enjoy a magnificent view of the Gulf of Naples. Another reward: it is much cooler at the top of Vesuvius!
Walking through Pompeii with children: a journey through time! The history of this ancient Roman town, buried under the ashes of Vesuvius in 79 CE, is fascinating for all ages … and even more if you have climbed at the top of Vesuvius before. The archaeological site is very large (about sixty hectares, of which 12 can be visited), it is worth taking a map at the entrance! Then we strolled through the streets, crossed the antique pedestrian crossing, founded graffiti, pretended to be merchant or bartenders in the Roman snack bar… And then casts of body (there's even a dog), almost locked in motion by lava, are impressive to see. It can get very hot on the site in summer, provide water bottle, caps, and try to visit in the morning or late afternoon. Reachable by subway from Naples, stop "Pompei Scavi".
Making a stop in a "Caseificio" (a dairy), to taste the local handicraft production of buffalo milk: of course, the best mozzarella come from this area (known as mozzarela di buffala), but also fresh ricotta, yogurt and delicious ice cream made of buffalo milk, very creamy … A real treat! Recommended near the site of Paestum: Caseificio Barlotti, Via Torre di Paestum, 84047 Capaccio, or Tenuta Vannulo (organic products), Via Galileo Galilei, 84047, Capaccio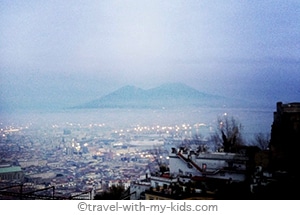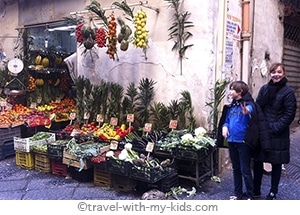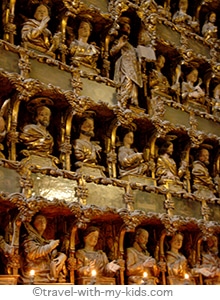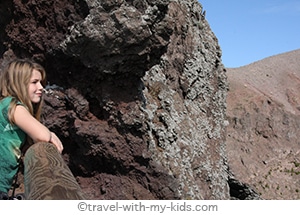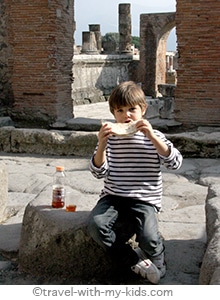 Our favorite places in Naples with kids
The National Archaeological Museum: one of the world's finest collections of Greek and Roman Antiquity! The museum is very large, so we choose to focus on rooms in relation to Pompeii (to schedule after visiting the archaeological site). The museum is full of beautiful mosaics, and many everyday's life objects found almost intact, allowing to imagine how were the houses before they were devastated by the eruption of Vesuvius … At the 1st floor, the "secret cabinet" showing erotic frescoes and erotic objects found in large numbers in Pompeii, is reserved to adults. Good to know: Piazza Cavour (subway stop for the museum), there is a kids playground area, where they can let off some steam after the museum visit! Museo Archeologico Nazionale, Piazza Museo Nazionale, 19 – Every day except Tuesdays from 9 am to 19:30
TOLEDO subway station: even if you are not coming to Naples to take the subway, this station worth it! It is part of the Line 1 stations designed by leading architects, designers and worldwide artists. For the price of a subway ticket (1.30 €), admire the beautiful skylight above the escalators. The sea coloured mosaics create a magical aesthetic effect…
Paestum: Our crush! It is a beautiful ancient Greek site, with three incredibly well preserved temples standing on a green hill. If we want to show the kids majestic Doric temples, virtually intact, it's the place to go. The site is not very large, one hour can be enough to go around. There is not a lot of people, you can enjoy the peaceful and rural atmosphere… Beaches are very close, so it's easy to go for a swim after the visit: a nice reward for the kids! The site is on the municipality of Capaccio, Via Magna Grecia, about 100km from Naples' center, heading south. Open daily from 9 am until one hour before sunset.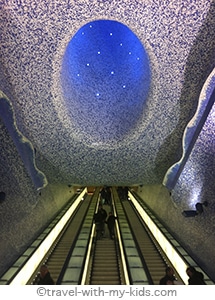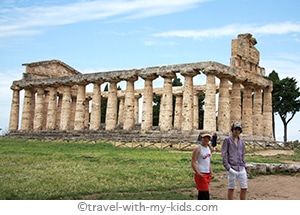 Naples family accommodations: hotels and rentals
In the city's historic center: Decumani Hotel de Charme offers a Suite for 4 people, with a double bed and two single beds. The charm of a historic building, and especially a spectacular breakfast room, worthy of a "palazzo"! http://www.booking.com/hotel/it/decumani-de-charme.en-us.html?aid=806255
Also very well located in the center, The Bellini House B & B offers a nice family room for 4 or 5 people, with a beautiful view of the gardens. Nice buffet breakfast, pleasant atmosphere of a small establishment. Very good value for money!
On Posilippo Hill (Naples):
Best Western Hotel Paradiso offers two rooms, almost for the price of one! Quiet, with an exceptional view of Mount Vesuvius and the Bay of Naples from the breakfast terrace…
A few kilometers away from the city's center:
Hotel Villa La Colombaia (Portici): A nice hotel located conveniently located between Naples, the Vesuvius and Pompeii. Away from Naples chaos, with a beautiful pool in the large garden, it's the right place to chill out after visiting with the kids! The hotel offers a private villa with two bedrooms and two bathrooms, at a very competitive price. 
If you are lucky enough to spend a few days more exploring the Amalfi Coast, check out the beautiful Villa Speranza, the perfect spot for a restful vacation with kids: a private villa large enough to welcome a big family, with a splendid view of the island of Capri and of all the Gulf of Naples, a lush garden, a swimming-pool…

 Eating with kids in Naples
Pizza was born in Naples, so you can expect to eat there some of the best you've ever had! Traditional Neapolitan pizza is made with the high thick dough (while in Rome, it's thin dough). The pizza fritta (fried pizza), is also a local speciality: not very light, but it will be eliminated by walking!
Two pizzeria which are real institutions in the old city's heart: Pizzeria Sorbillo – (via dei Tribunali, 32) and Pizzeria Di Matteo (Via dei Tribunal, 94). At lunch time, you'll see the Neapolitan queuing in front, waiting for the fresh pizza right from the oven. You can also sit at a table, but the "take-away" option is very pleasant: let's do as Neapolitans do, eating standing or sitting around!
We also love Starita (Via Materdei 27/28). This historical pizzeria, in a popular neighbourhood, was immortalized in the movie L'Oro di Napoli (1954), with the beautiful Sofia Loren who plays the Pizzaiola. Again, there is a lot of people, expect to queue before dinner!
Trattoria Da Carmine (via dei Tribunali, 330): a typical Italian trattoria to eat good pasta!
Da Nennella (Vico Lungo Teatro Nuovo, 103/104/105), is also a recommended trattoria: simple, good and cheap! Loud and happy Neapolitan atmosphere guaranteed. Come early because there may be a short wait.
The local pastry will also delight gourmets: first the 'babas', small briochelike cakes swimming in a syrup, a traditional Neapolitan specialty. But also the 'sfogliatella', a crispy multi-layered pastry filled with ricotta … a real treat when served hot, just from the oven!
Although it is not for children, a note on the limoncello, this sweet liqueur traditionally made with the fragrant lemons' bark, from the nearby Sorrento peninsula. It is also a local specialty, so to be try in Naples! Of course, homemade one, or coming from a small-scale production, is the best.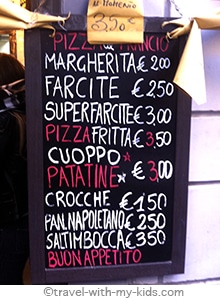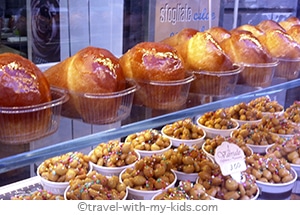 What we liked less
Running out of time… to see the Solfatara crater (Pozzuoli), a spectacular volcanic site.
And not having visited the Catacombs of San Gennaro, kind of spooky visit that teens generally like. Nice, it will be a good reason to come back again to Naples with the kids!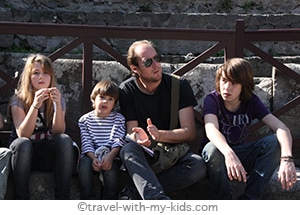 Tips
The climate is nice and sunny almost all year long in Southern Italy. Autumn and spring are very nice, but even if the summer is hot, you can enjoy the nearby sea! This is an ideal break-away destination as a family. For example: two days in Naples, one for Mount Vesuvius and Pompeii. If you have a little more time and a car, do not miss a trip to the site of Paestum. And if you got even more time to spend, there is many more beautiful places to see in the area: the Amalfi Coast, Capri and Ischia island…
To move around the city center, subway works fine and the bus network is well developed. And, of course, a lot of walk! To visit Vesuvius, Pompeii and Paestum, renting a car is a practical and comfortable solution. Be aware that Naples' historic center is not accessible by car, you have to park a little outside – anyway, no regrets: Neapolitan city driving style requires such a good dose of composure!
The unsafe reputation of Naples seemed a bit excessive to us. By adopting simple and sober outfit, avoiding backpacks (happiness for pickpockets), flashy jewelry, big cameras at night, nothing never happened to us. The city's center is popular, the buildings are sometimes tumbling, the traffic is chaotic, the garbage are not always picked up… but it's part of the city's charm. People are mostly very friendly. Don't believe all the scary speeches about Naples you may have heard or read on the web!
With young children, pay attention to traffic, especially to the multitude of scooters that weave through the narrow streets, with sometimes non-existent sidewalks. Even though they are very skillful, you better be careful, holding the hand of little ones and keep repeating to the others to walk along the buildings!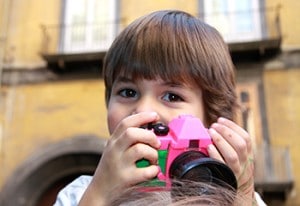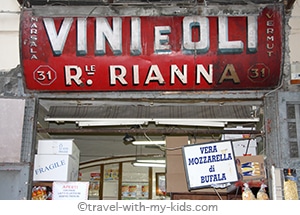 Don't forget to bring 
Comfy shoes or sneakers

Sunglasses and hat

Swimsuit and sunscreen from May to September

Light jacket even if the weather is nice (for the Vesuvius and the underground tour)

A baby carrier on top of the stroller
Our favorite children's book on Naples and Pompeii:
I Survived the Destruction of Pompeii, AD 79
 : During the infamous eruption of Mount Vesuvius and the epic destruction of Pompeii, one boy struggles to escape. Can he survive the most devastating disaster of ancient times? A thrilling though informative historical fiction! (age range 7-10 years)
And enjoy your stay in Naples with kids!