A trip to Rome with kids is amazing, but there is so much to see that it can be overwhelming: churches, museums, sightseeing and more sightseeing… Let's find something a bit more entertaining for kids, something educational but funny: that's exactly what Gladiator School is about! So, ready to become a gladiator for one day?
First of all, I booked online for my 10-years-old son and chose my preferred date and time for the session (note that a "private lesson" means a small group of kids. Otherwise, whom to fight with?!). On the D Day, discovering the Gladiator School was already exciting: it looks like a Roman Legion camp, with a full-size catapult! There, we've been welcomed by the instructor (dressed in period costume), a sport teacher "in real life" and member of the Historic Group of Rome, fans about Roman Empire, Legion and Gladiators. Four other kids joined the session, 4 boys and 1 girl, from 7 to 11 years old, coming from Norway, France and Ireland.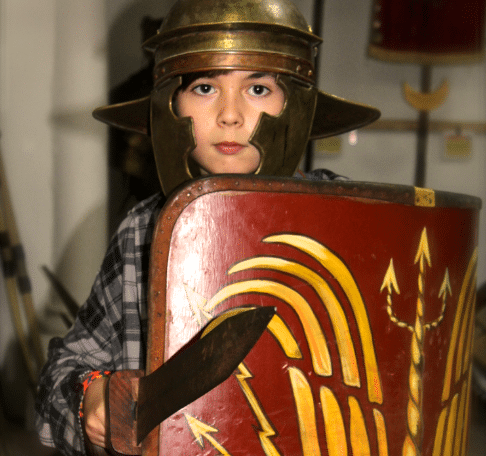 First of all, the instructor invited us in the little Museum and told us more about the (huge) Roman Empire and the Gladiators, while we were looking at gladiator's weapons and other artifacts. The great thing is that the visit is not only about facts, aka not boring: the kids also held the Gladiators' swords, manipulated the lets, and tried on the (incredibly) heavy helmets!
Then he provided the kids with tunics and belts, thats make them looking like traditional gladiators, though a bit cutest.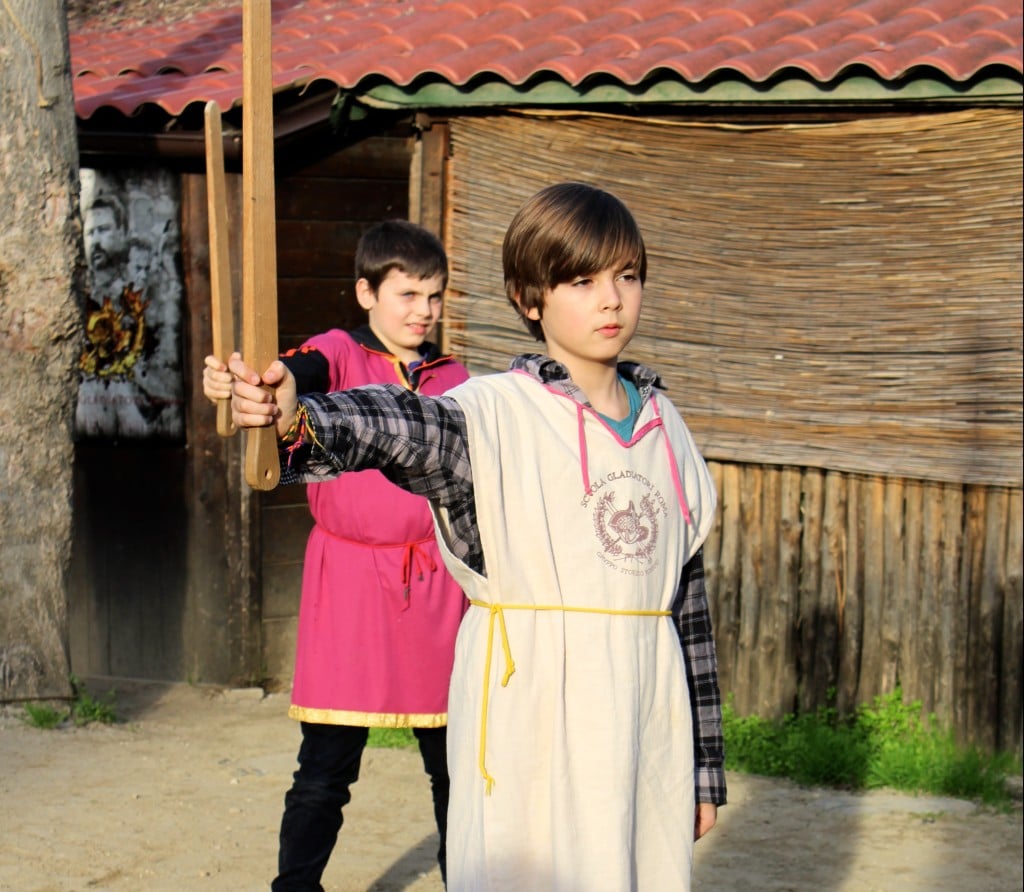 Ready to enter in the arena ? We sat on wooden bleachers while the kids, in the sand ring, began the warm-up exercises: a game of skill through moving sand bags, some running, somersaults…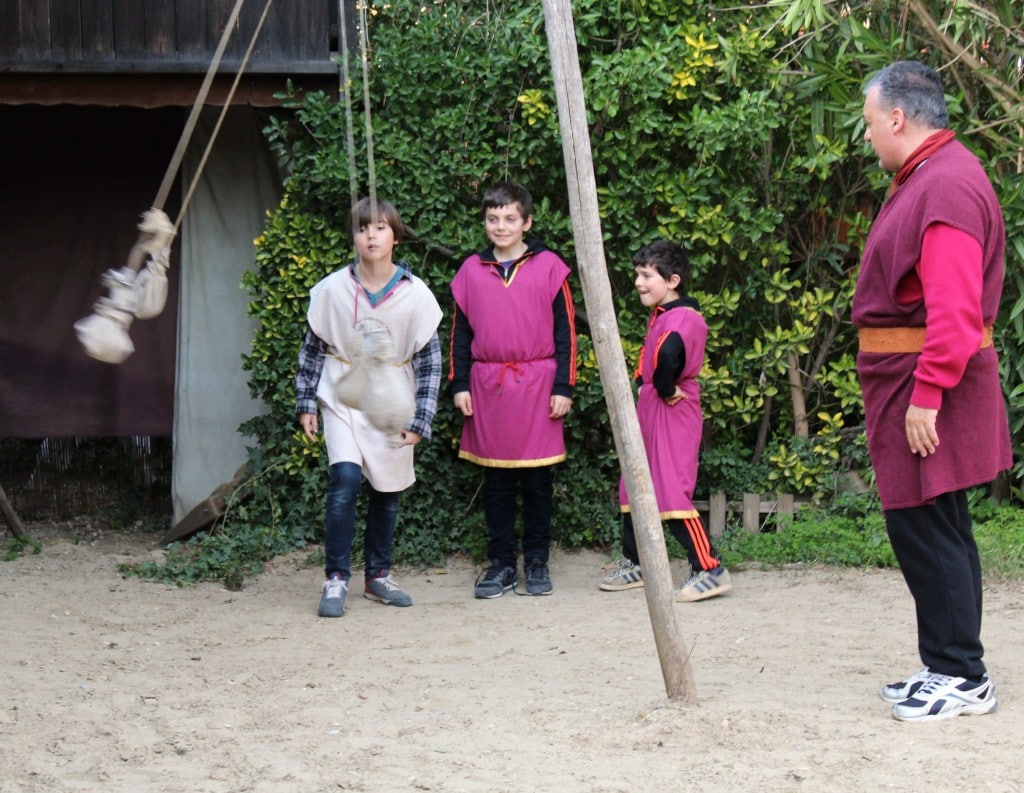 After the warm-up began the practice, with a wooden sword. The instructor showed the main movements and their combination, the positions of legs and body, to be used in attack or defense during the fighting.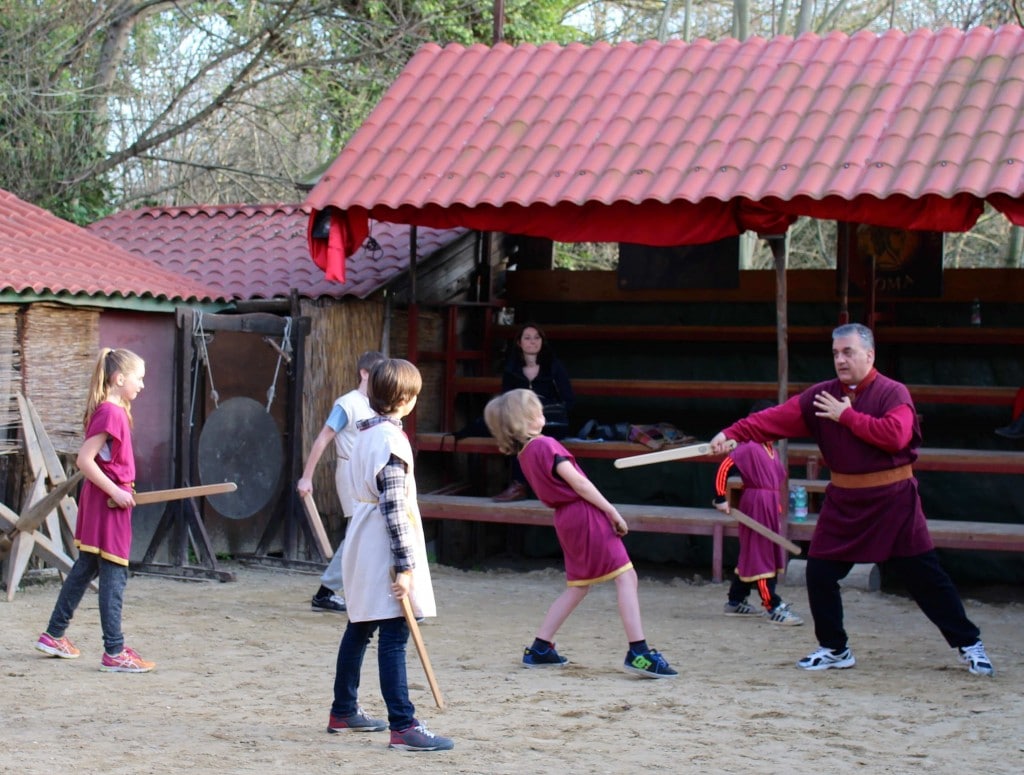 Finally came the highlight : the gladiator tournament –only if you wish to, but all the kids wanted to be in! Equipped with a light shield and an (harmless) sword, kids began a one-on-one combat session. No need to say it is safe and supervised by the instructor. Kids are supposed to use the basic techniques they just learned before. Oh, and my son won the tournament – proud mama! At the end, all participants received a certificate of accomplishment.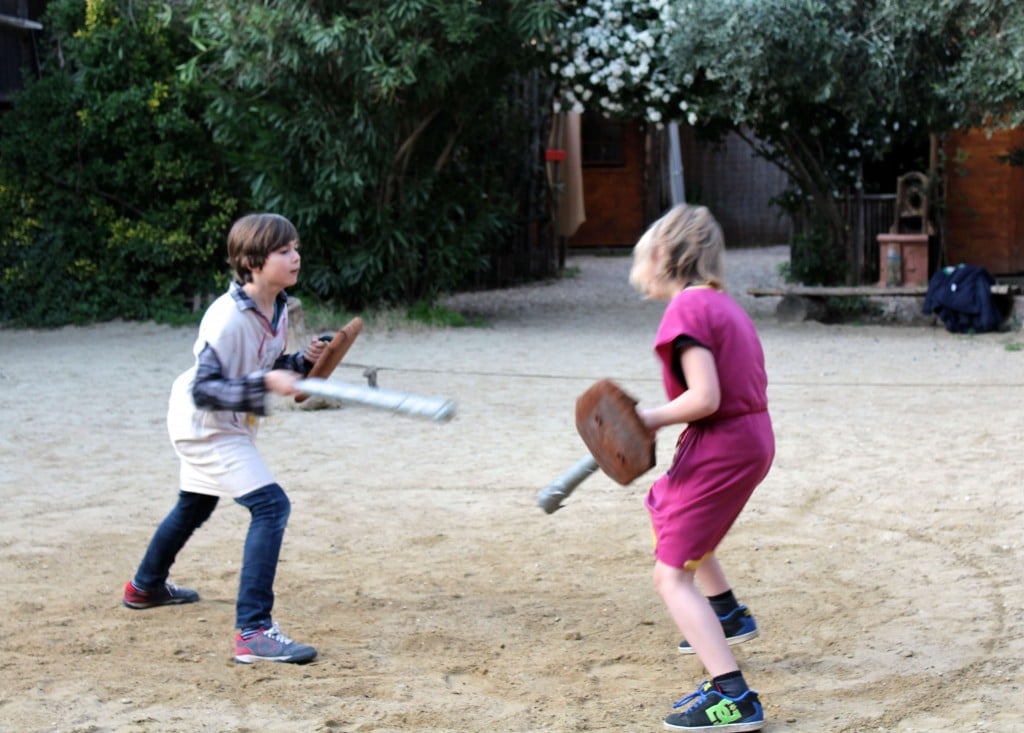 It was fun as a spectator (not all kid's activities are!), and even more fun for the kids to be a gladiator for one day. Gladiator School was a great educational experience, learning about history in a fun way. It' also a fantastic way to prepare the Colosseum's visit, to spark children's curiosity and let their imagination run once they are in the impressive site. Definitively an activity that worth it!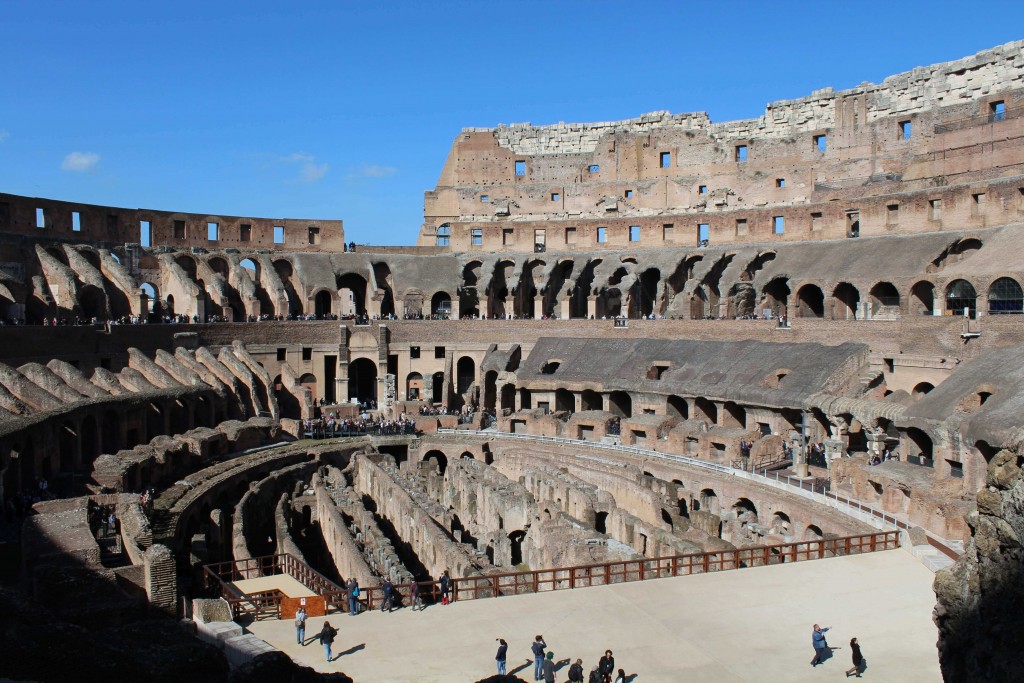 Our tips to enjoy the Gladiator School:
How to get there? The Gladiator's School is located in Rome, on the ancient Appian Way, approximately 2.5 km (1.5 miles) from The Colosseum. It is not in the center, so it's better to get there by taxi.It may be a bit tricky to find on foot. Once arrived to the number 18,  walk a few minutes down a dirt track (opposite a bus stop), till the home-made sign saying 'Scuola di Gladiatora' and the large red logo of the 'Gruppo Storico' underneath. Gladiator School, Via Appia Antica 18
For who? Boys and girls are welcome. Minimum age is 6 years old… and there is no maximum! Brothers, sisters or parents who are not up for becoming a gladiator can choose to just watch, enjoy and cheer!
What to wear? The kids should wear light and comfy clothes. They'll be training wearing the traditional tunic on their own clothes, and moving quite a lot!
When to go? The lesson (including the visit), lasts approximately two hours. Add extra time to get there and back, not to be in a hurry and to enjoy the moment. In the hot summer days, you may avoid mid-time and beginning of the afternoon. Plan your visit online and choose the lesson times throughout the day.
What to bring? Mosquito repellent may be needed in summer (as in every garden or park in Rome)! Fresh water is provided on site.
If you are planning a trip to Rome with kids, also check-out our Family Friendly guide, featuring visit and activities no to be missed!
This post may content affiliate links. Although, this post is not sponsored and all opinions are my own.