Travel with kids: California (Los Angeles and San Francisco)
Sacha (7), Esther (12) and their parents
in California
On one hand Los Angeles, a seemingly endless city with palm trees, on the other the charming San Francisco, and breathtaking landscapes between both… Let's go to California as a family!
  What we loved to do in California with kids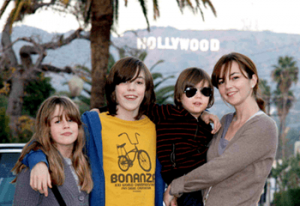 Our favorite places in California with kids
 California's family accommodations
  Eating with kids in Los Angeles and San Francisco
  What we liked less
  Tips
  Don't forget to bring
 What we loved to do in California with kids
Spending a relaxing afternoon at Venice Beach (Los Angeles) : dancers on roller skates wiggle in front of the sound system, outdoor weight rooms, parades of Hell's Angels on their blasting Harleys… a must-see! With children, it is quite enjoyable to visit the beach on a bike or with roller skates (which you can rent).
Crossing the Golden Gate Bridge by bike (San Francisco): a classic, but also an amazement. It is very easy to find rental bicycles near Fisherman's Wharf or Ferry Building. The ride follows well-marked bike trails. Plan a minimum of two to three hours.
Visiting Las Vegas: the largest saloon in the world! OK it's not California, but it's not far from LA. An utterly crazy city where hotel-casinos have spent millions of dollars to give their imagination free rain: Egyptian pyramids, Eiffel Tower, gondolas on Venetian canals… It is kitsch and the children love it. There are many fun activities for the family: visit the Venetian Hotel, admire the fountain shows at the Bellagio, see a performance by the Cirque du Soleil (reserve well in advance), go shopping in the M&M's and Coca-Cola stores…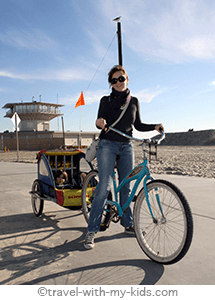 Our favorite spots in California with kids
San Francisco: what a wonder to live there even for a few days! The Victorian houses (unforgettable guided tour in the Haas-Lilienthal House), the bison in Golden Gate Park, the seals of Pier 39, the cable-cars, the long walks drifting along hilly streets, the Saturday morning market in front of the Civic Center or at Ferry Building… 
Los Angeles:  You mustn't miss Hollywood Boulevard and Universal Studios theme park with kids.
Good tip: it's not so easy to get a nice picture with the Hollywood' sign in background. The best place we found: 2400 Beachwood Drive (corner Winans/Beachwood Drive)
Between both cities, the breathtaking Highway One…
Big Sur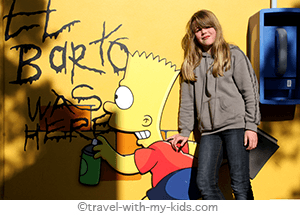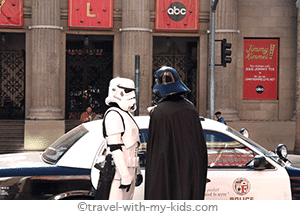 California's family accommodations and hotels 
A practical thing when travelling with your children in the USA is that you can almost always find a room for four (with two queen beds), or even five if you add a roll-away bed. And almost all hotels have a swimming pool!
– Hotel in San Francisco
Parc 55 Wyndham Hotel is very well located, a few minutes away from Union Square and the cable-car departures. The rooms offer two double beds and two children under eighteen can stay for free in their parents' room! The rooms on the higher stories have marvellous views of the city.
– Hotels in Los Angeles
Close to the airport: Double Tree, not expensive and very comfortable. The neighbourhood is boring (corporation head offices), but you are five minutes away from the international airport.
– Hotels in Hollywood
Best Western Sunset Plaza Hotel: for its location, in the heart of the 'Sunset Strip', and its reasonable price. Very well situated if you want to discover the area on foot. The rooms are comfortable and spacious for four, with two big beds. 
London West Hollywood: an excellent hotel located in West Hollywood. Hollywood décor with a view of the hills, spacious and luxurious rooms, a swimming pool, and delicious breakfasts.
– Hotels in Las Vegas 
You might as well stay on the 'Strip' (officially: Las Vegas Boulevard) for its animation! No problem staying in a spacious room for four at the splendid Venetian Resort, at the MGM Grand, or the Palms. But only the MGM Grand accepts to welcome five people in the same room.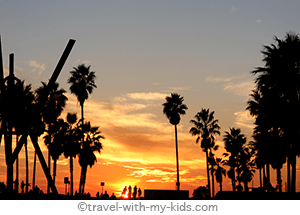 Eating in California with kids
Diners that look like the 1960s, with coke, hamburgers and ketchup, and no other vegetables than French fries… everything a kid can dream of. Families are always welcome, and children are greeted with colourings, pastel pencils, and a kid's menu with low prices. For the adults, portions are enormous: do not hesitate to share your pizza or ask for a take away glass to bring along your unfinished orange juice…
In San Francisco: Lark Creek Steak (last floor of the Westfield Center). Practically the best burgers in the world. It's pretty expensive and quite gastronomic (really!), but what a treat!
In Los Angeles (West Hollywood):
Mel's Drive-in, our favourite. A lovely family atmosphere, a décor worthy of 'Happy Days', and hamburgers served to kids in little Cadillac-as-plates. Moreover, the juke-boxes work, so bring along some coins! 8585 Sunset Boulevard
Barney's Beanery: a very authentic neighbourhood institution. Very animated, with billiard tables in the middle of the room, and a varied menu (naturally, American specialities) with copious portions. 8447 Santa Monica Boulevard
Denny's: a chain of restaurants that you will find everywhere on your route. Nice for children, and much tastier than McDonald's! Also perfect if you want a large lunch at a friendly price.
In Los Angeles (Venice Beach):
Café 50s, our other crush! For the deco, red imitation leather booths, juke boxes, and delicious hamburgers at 5$… A very simple and charming spot. 838 Lincoln Boulevard
Rose Café: a neighbourhood institution, with a slightly bohemian atmosphere, where you will eat really well. On 2nd and Rose Avenue.
C&O Trattoria: italian style restaurant with a lovely terrace, delicious salads (enjoy, it is rare!) and many pasta dishes. Quite copious! 31 Washington Boulevard
In Las Vegas:
Hard Rock Cafe, a great rock'n'roll deco with a 15 meter high 'StratoCaster' and the music that goes with all of that… an amazing atmosphere for kids. 4475 Paradise Road, a five minute taxi or car ride from the Strip (parking provided).
Rainforest Restaurant (in the MGM hotel): fun for children, with its tropical jungle ambiance, gaping orang-outangs, and trumpeting elephant… And even a real lion sleeping in its glass cage!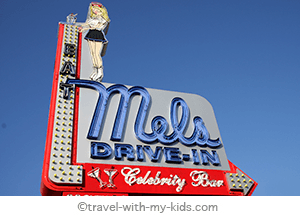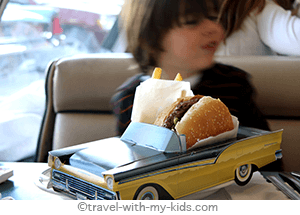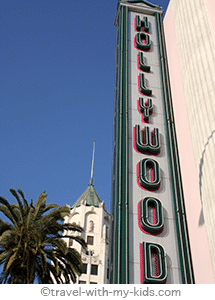 What we liked less
Be careful: some restaurants doesn't accept the kids after 9:00 PM. 

 Tips
You really need to rent a car to visit Los Angeles. The city is huge, with different "centers", each far away from the other.
At the contrary, do not use a car in San Francisco: parking spaces are extremely pricey. The city should be visited on foot and with public transportation. Try to buy a San Francisco CityPASS (very advantageous: seven days of unlimited transportation and five sites/museums included) or a Muni Visitor Passport (one or three days).
Winter is very nice in California, you will find a sunny weather and average temperatures in Los Angeles.  If you're heading going to San Francisco in summer, always carry with you a little jacket: when the fog descends on the city, the temperature can drop quickly (foggy 20°C in August).
A two week stay, as we had, is nice to explore the West Coast (obvisouly more is not bad!).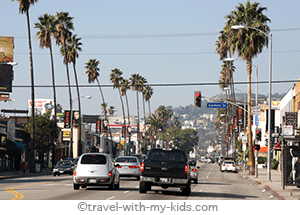 Don't forget to bring
* a swimsuit in summer, naturally
* a little notebook to write, draw, tell stories (the children's suitcase)
* electrical plug adaptors (if you are coming from Europe)
* clothes for cooler days in San Francisco
* a complete guide for parents, like the  Lonely Planet
And books for the children: 
Enjoy your trip to California with kids !