Our Easter holiday trip to Greece began with a short stay in Athens. We have been several times in Athens, and every time, I try to discover a new area. This time, we picked the Kolonaki neighborhood, described as a trendy and exclusive part of the city. Located in the heart of Kolonaki, the Coco-Mat Hotel seemed to perfectly match our expectations…
THE LOCATION:
Coco-Mat Hotel sits in the trendy and chic Kolonaki district, a lively and safe area in the center of Athens. Kolonaki, one of Athens' oldest district, upscaled since the mid 90's. Most luxury shops are there, but also some independent Greek designers and fashion shops. Kolonaki is close from all city's major sights, which can be reached by subway (a 5 minute walk from the hotel- EVANGELISMOS station). That said, the taxi is cheap and convenient in Athens. Nice places to eat or have a drink are very close by foot (see more below).
THE HOTEL:
Coco-Mat Hotel is described as "a four star boutique style hotel, cosy yet modern". In fact, it is more than that. First of all, a word about the remarkable aesthetic façade, recently renovated by Greek architects, giving an urban contemporary look to the building.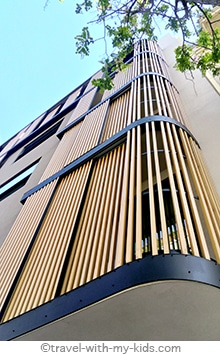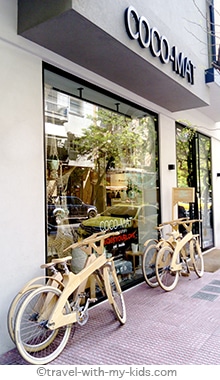 xxxxxxxxxxx
I was a bit surprised when we founded a retail store in the lobby, instead of the reception. Everything was about sleeping (mattresses, pillows, bed linen and more). And here is why: Coco-Mat (yes, "mat" for "mattress") is a very well known company for its bed and mattress manufacturing. So it's a true boutique hotel! I also learned that Coco-Mat is advocating a natural way of living, with an eco-friendly approach of comfort -which is mirrored of course in the store, but also in the accommodation. (Finally, no worries, wewent to the reception, which is located on the lower ground floor.)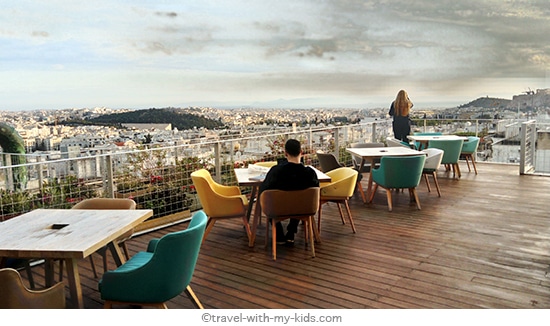 The rooftop terrace, with its amazing view on Athens, is lovely. Well decorated, with plants, murals (that kids will love) and modern furniture, it is a great place to relax at sunset, sip a glass of Greek wine and admire the view…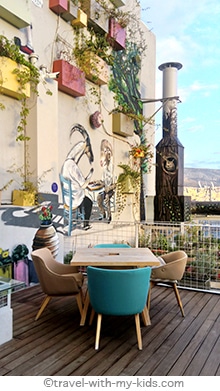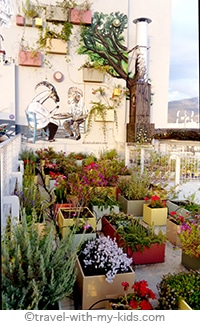 XXXXX
THE ROOM & THE EXPERIENCE:
The hotel provides a few connecting rooms for families, where we stayed for one night: a small entrance, connecting with two independent double bedrooms, with their own bathroom. Despite the rooms are not gigantic, as usual in European cities, it was fully enough for us 3 (parents + 11 yo son), and would have been also for a family of 4 with kids sharing a room with a king size bed.
The design of the room is clean, sober, with raw surfaces and neutral shades – the way that makes you think that simple is better. I liked the quiet and relaxing atmosphere, enjoyable in this hectic city!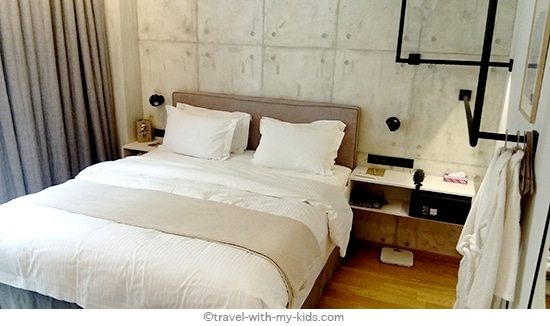 The bathrooms are very nice, with their feature custom-designed marble tops and glass shower stalls. I must say I had a crush on the amenities provided. How not to become addicted to the delicious scents of the O.live toiletries? (the good news is that you can find them at the Coco-Mat lobby shop). Comfy bathrobes and slippers top it all off. No need to say that I relished the separate bathrooms, a real advantage and time saver as a family.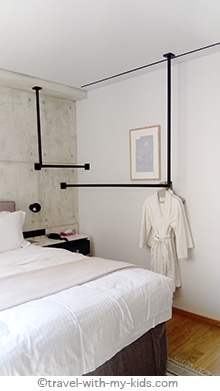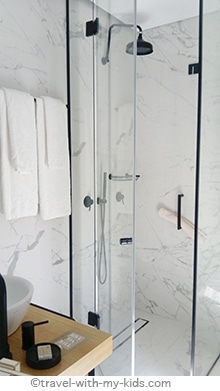 XXXXX
And now, let's talk about what we came for: sleeping! The hotel pledges to provide "the best sleeping experience in Athens", and even a "rejuvenating sleep". Oh fellow parents, isn't it exactly what we need? And I was not disappointed (about the rejuvenating, I didn't take the risk to ask my husband). The bed was one of the most comfortable I ever tried. Even the princess from "The Princess and the pea" would agree: mattresses and pillows are really perfect.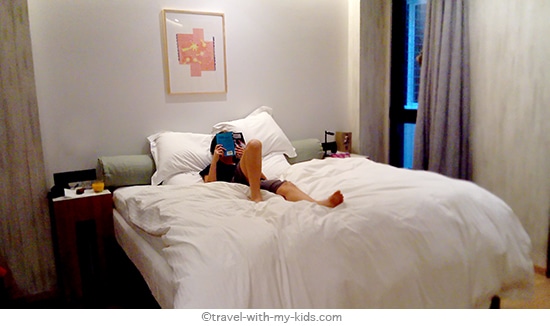 Advice for families with toddlers: part of the comfort comes from the mattress' thickness (4 layer mattress), and thus the bed is quite high. To be honest, too high for a child under 5 in my view: ask for a crib for a toddler.
WHERE TO EAT NEAR COCO-MAT HOTEL KOLONAKI
We went to have a light dinner at the "Stick bar" (3 minutes walk from the hotel, in the same street). It is a casual eatery, though with a "Kolonaki twist", so a bit more chic than usual Greek eateries. Skewers, French fries, Greek salad, everything was fresh and tasty. – Patriarchou Ioakim, 48
I had a crush on "Kalamaki Kolonaki", a more traditional style taverna. I loved the Greek atmosphere, the terrace, and the small blue painted tables… Traditional food (and skewers) at cheap price. – Corner of Patriarchou Ioakim and Ploutarchou, 32
---
To put it simply: despite Coco-Mat Hotel is not family-friendly focused (like most hotels in Europe's cities), it was a really nice and comfortable experience. I enjoyed the neighborhood, the eco-friendly state of mind, the real excellent sleeping and the nice sober design. Coco-Mat Hotel offers good value for money, given the comfort and the quality of the place. Have a look on Booking.com's deals to find the best prices.
Ideal for: families with 1 or 2 kids, design lovers, eco-friendly travelers
---
Coco-Mat Hotel Kolonaki Athens, 36 Patriarchou Ioakim, Athens, 10675, Greece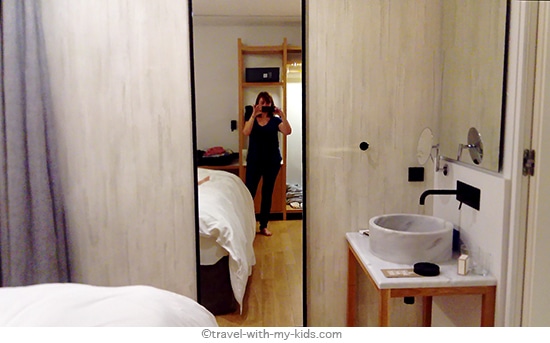 This is a sponsored post. We were kindly invited to stay the night at Coco Mat Hotel, but as always views, opinions and memories are my own.