Travel with kids : London with kids
Lancelot (8), Ysé (13), Balthazar (16)
and their parents in London
A city full of charm and a really fun destination for all ages… Welcome to London as a family!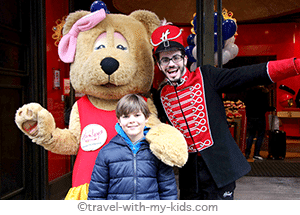 What we loved to do in London with kids
  Our favorite places in London with kids
 What we loved to do in London with kids
Watching the Changing of the Guard at Buckingham Palace: what a ceremony! Every morning, at 11am (every other day in the winter), the two guards of the queen's palace are replaced, accompanied by a military brass band and a cavalry battalion. It is a true show! As many spectators tend to gather, it is preferable to arrive a bit early in order to have a better view, specially for little ones! (for example next to Queen Victoria's statue).
Wandering the city aboard imperial red buses, on the top level of course, and if possible upfront: an ever-entertaining activity!
Visiting the Tower of London, a real medieval fortress kept by the Beefeaters: bursting with interesting anecdotes, it is the perfect way to discover the history of Britain. There, one can also admire the crown's jewels, which include the world's largest cut diamond and the famous Koh-i-Noor. Amazing! Take a look at the door when you leave the room that houses the treasure: a huge lock, security door twenty centimeter thick … it is almost like in Ocean 11! Pretty but expensive Queen guards' costumes in the shop at the exit. To avoid waiting on line (the queues are often quite long), you can buy tickets online in advance, with the London Pass. 
Strolling in Harrods, which is much more than a large department store. We had a wonderful time admiring the decorations on the seven floors: the vast Egyptian hall with the sphinxes, the hieroglyph-covered escalators, the splendid ceilings, and the food section – a spectacular gourmet delicatessen. Everything is hyper-luxurious, from the doormen to the marble toilets, and the prices follow accordingly: to succumb, better wait for the sales (on Brompton Road)! 
Exploring museums, free for children and quite practical when it is raining: The Science Museum (South Kensington), with a panoramic cinema, a room filled with life-size airplanes, a scientifically themed underground game area… very fun and stimulating for kids (from the age of six) /  HMS Belfast (London Bridge metro station): a historical war ship, used during World War II. A highly impressive visit!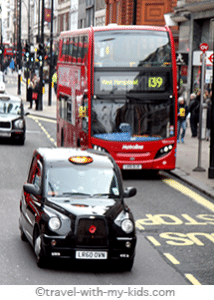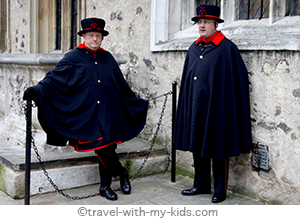 Our favourite places in London with kids
Our crush: The Natural History Museum (South Kensington, Cromwell Road), with its dinosaur and whale skeletons… playful and educational (from the age of 7/8 ideally). The architecture of the Victorian style building is worth seeing: it is a magnificent cathedral dedicated to the natural sciences. In the Central Halll is an impressive diplodocus skeleton, and this is only the beginning… So far it's free entrance, then you have to queue to visit the different galleries. The museum is huge, so you have to pick some sections not to exhaust the children. Dinosaurs' gallery is, in my opinion, not to be missed with children. The whole family loved it and we spent a lot of time. And of top of that, it's free!
Hamleys, London's largest toy store, between Piccadilly and Oxford Circus: from the traditional Teddy bear to toys adapted from cartoons, it is a real five-storey treat. Amazing Lego construction of Queen Elisabeth, many activities and demonstrations inside and in front of the store… not only children will love it!
The Portobello Road flea market on Saturday mornings: a charming neighbourhood with profuse colourful façades, and a wonderful area for strolling. We had a really nice time there!
Nice for teenagers too: the pretty neighbourhood of Covent Garden and its old, restored covered market, little shops, and street shows. Teens will adore Neal Street: clothes, shoes, East Pack bags, etc.
For younger children and for a little resting, there are some truly superb parks in London. Our favourites: Holland Park and its great game area, Hyde Park, where one can navigate by pedalo or bark on a nice day, also amusing for young children, are Peter Pan's Pirate Ship (near Queensway metro stop), and Regent's Park and its zoo.
The Harry Potter's fans won't miss the Warner Bros Studio Tour – The Making of Harry Potter. It's in Leavesden, out of the way from London but easy enough with regular public transport. It is amazing to see all the outfits, sets used, props, wardrobe and costumes. We spent almost 4 hours there, because there is a lot to see. The tickets must be pre-booked online (get the earliest available time, because as the day goes it gets more and more crowded).  
If you don't want to spend a whole day (and a lot of money), I would suggest going to Kings Cross Station, on Euston Road, where all the Harry Potter's magic trips begin and end. The 9¾ dock is a great place to take pictures, where students boarded on the Pouddlard Express. You can take a look at the store dedicated to Harry Potter.
For young musicians and rock amateurs, go check out Denmark Street: it is full of guitars, CDs, and scores shops… happiness in a street for future rock stars!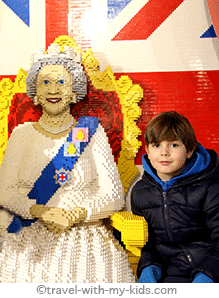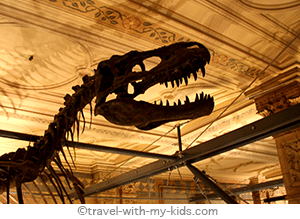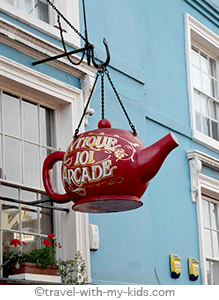 London family accommodations
It is no easy task to find a reasonably priced, nice hotel in London. The best solution to enjoy your stay in London with kids  is to rent an apartment: a practical and economical alternative when traveling as a family! We recommend Friendly Rental: a large choice of well-located, pretty, and spacious flats. Besides, it is quite enjoyable to be able to dine at home in the evening, when the children are tired after a long day of visiting…
The Tower Bridge Novotel has some very attractive offers. It is a well-located hotel, facing the Tower of London, just a few steps away from the metro. The rooms are luminous and comfortable, and when two children share a room with their parents, their breakfasts come free! To see the rates, click here
For smaller budgets, Royal Eagle Hotel  also offers nice family rooms for two parents/two children. Simple, well located (Westminster), good  value for money.

 Eating with kids in London
Tea-time in a tea-room: so British! Treat yourselves to scones and muffins with a little cup of tea…
'Fish and ships' in the street, served in newspaper (or fake-printed newspaper!) cornet. Typical, tasty, warming up and cheap : can't ask for more! I must admit that my children ate more french fries than fish, but it's holidays, isn't it? We had good 'Fish & Ships' in front of the Tower of London.
The Hard Rock Cafe, because it is the real and first one, open since 1971. Souvenirs and rock'n'roll music, hamburgers for kids, and a warm welcoming, with wax crayons & colourings, and an adapted kids' menu. 150 Old Park Lane
Sticky Fingers is a temple devoted to the Rolling Stones! The restaurant belongs to bass-guitarist Bill Wyman. The main room is filled with autographed guitars, concert posters, menus in the shape of vinyl disc sleeves, and of course, a Stones soundtrack! The menu offers hamburgers, fries, salads, steaks… Slightly pricey, but one can also drop by for a drink. 1A Phillimore Gardens (Kensington area)
We wanted to try an indian restaurant in Soho, but it was full. We had dinner at Comptoir Libanais, a libanese style restaurant, very pleasant. Children enjoyed couscous-style dishes, homos and falafels. Nice decoration. Several locations, including SOHO: 59 Broadwick Street
Wagamama (which means 'naughty child' in japanese!) is a nice place to have lunch as a family: a spacious, informal, large place with modern design, serving popular japanese style food (as noodles, ramen, soba, rice). Adapted menu for kids, with special chopsticks for beginners! Fantastic fresh juices also. Several locations in London, as Covent Garden (1 Tavistock St), Soho (10a Lexington St)
The Japanese restaurant Itsu is fun, with its small treadmill on which little plates parade. You can taste makis, sushis, and small skewers, and then pay according to the number of mini-dishes you had. (in Chelsea, 118 Draycott Avenue, and in Soho, 103 Wardour Street)
With older children (starting at about ten years old), pubs are another great place to taste local food: chicken pies with peas, apple pies…
Younger children love the Rainforest Cafe, which will give them the impression of eating in the jungle: tropical atmosphere with liana, snakes, and crocodiles! Every half hour a storm breaks, orang-outangs growl, and an elephant begins to trumpet… Kids are beautifully welcomed. 20 Shaftesbury Avenue, Piccadilly Circus metro, exit number four.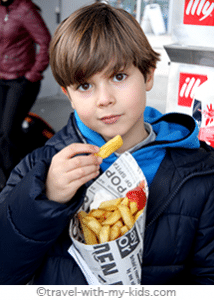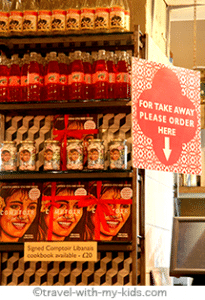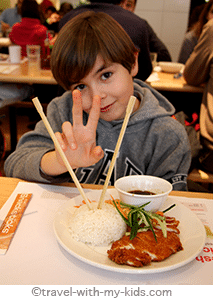 What we liked less
We wanted to peak inside Westminster Abbey… which we ended up being charged for. A guard filters the entrance: the churchgoers enter through the great entrance (free of charge), and the visitors come in though the (paying) back door!
The house of Sherlock Holmes, on 221B Baker Street of course! While it is fun to walk past it, the small museum is not really worth a visit and does not offer anything particularly interesting for children.
About the London Eye, a giant Ferris wheel on the South Bank of the River Thames: some won't miss the spectacular view on London, some (as we do) will… First of all, I'm not comfortable with this type of attraction because I have vertigo. Then, it is quite expensive as a family, almost 70 British £/110$/96€ for a family of 4. If ever you are tempted, book online to avoid queuing.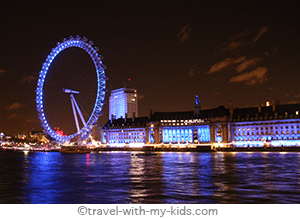 Tips 
The L
ondon Pass is really advantageous in terms of transportation (bus and metro), and site entrances (no long queuing): no-queue tickets for one, three, or seven days, including free entrances to over 60 sites, as Tower of London, HMS Belfast, Westminster Abbey, or a Thames River Boat cruise… I would recommend to include the Oyster Traveler card, to get unlimited travel across central London, as single tickets are really expensive in London (a single journey in central London on the tube is £2.90). 
The traditional big black cabs are quite practical for families, for instance one can fit a stroller without folding it: a fun experience to have at least once.
London in winter is cold and humid: not the ideal season, except to see the Christmas decorations or go to the Harrods winter sales… The Christmas spirit can be very charming!
Be really careful when you, or even more the children, cross the street: it's not easy at all to get used to the left-side driving.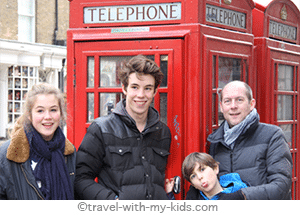 Don't forget to bring
an umbrella, and raincoats or K-ways for small children

comfortable walking shoes, ideally water-resistant, and perhaps a pair of rain boots (Wellingtons) for children

a UK plug adaptor to charge your cell phones and cameras
Our favorite children's book on London:
– Not For Parents London: Everything You Ever Wanted to Know (Lonely Planet Not for Parents London)
This Lonely Planet specially featured for kids (8/12) is great for who want to know more than the adults! This illustrated chapter book tells many anecdotes and quirky stories about history, culture, gastronomy, and major monuments in London.
– Our crush, oldie but goodie: This is London
, by Miroslav Sasek, a wonderful illustrated album about London life and monuments. A great classic to discover or re-discover with your family. Poetic and colorful, rich with details and humor… a treat for all ages! 
– Another classical that shouldn't be missed: the adventures of Paddington Bear! The cute little bear is cherished by young readers since many years (he was born in 1958). Great storybook, lovely illustrations, an english treasure that little ones will enjoy.
-Activity books, as sticker books, are also very enjoyable while traveling: we like Ultimate Sticker Collection: London and Stickyscapes London, with over 100 different reusable stickers to create scenes with William & Kate, Sherlock Holmes, Queen Elizabeth I, Peter Pan, black cab, crown jewels and more. 
Enjoy your trip to London with kids!