The end of the year is approaching and I was wondering (like each year) about great places to celebrate New Year's with kids. Obviously, this is not about partying all night long, but rather a special occasion to discover local traditions. So I asked some great family travel bloggers where their all time New Year's Eve with kids was. Here are the greatest places… but also a disappointing one! (traveling is about unexpected, isn't it?) 
Get some inspiration and good tips to enjoy the New Year's Eve celebrations all over the world!
XX 

New Year's with kids in SPAIN

,

 by Heidi from Wagoners Abroad
No matter where you are in Spain, there is fun to be had on New Year's Eve! The one tradition the kids absolutely love is trying to eat all of the grapes at midnight. At the stroke of midnight, you are to eat one grape with each "gong" of the clock, for good luck. Okay, how many grapes is that? Yep, 12 grapes! One every 5 seconds. We learned the hard way it is best to buy small grapes, or even the candied grapes for the kids. There are loads of party supplies at the local grocery store, including sparkling juice, horns and decorations.
Usually people spend the first part of the night with family and friends.  After midnight, the streets fill up as people head out to dinner and party to all hours of the night. Yes, the little kids too, as everything is so family friendly! This is Spain and that's how they roll. You don't need to be in Spain to give this a try, so let us know how it goes for you this year.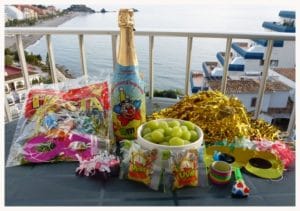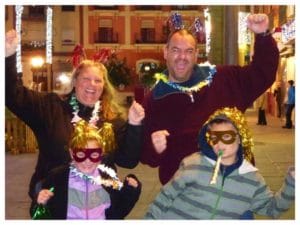 XX

New Year's with kids in BRAZIL, by Patricia from Our Whole Village
XXX
Brazil might be known for its extravagant "Carnaval", but its New Year's celebrations take the prize any day in my book. Perhaps it's the warm weather, or Brazilians' natural disposition for all things party. And party they do. Brazilians flock to the coast to welcome the New Year, where the festivities are filled with rites and superstitions. All are expected to wear white to attract peace and happiness. Women wear new underwear to represent a New Year wish or resolution – pink or red for love, yellow for prosperity, green for health and blue for harmony.
At midnight, one must jump seven waves, making a wish for each wave. No celebration is complete without candles, white flowers or other offerings for Iemanjá, Goddess of the Sea, the African-Brazilian deity from the Candomblé and Umbanda religions. And, of course, you can't miss the fireworks, especially if you're lucky enough to see them from Copacabana beach in Rio de Janeiro.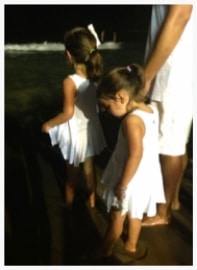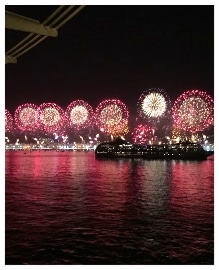 XXXXX

 New Year's with kids in CHIANG MAI (Thailand), by Travel With My Kids
XXX
Celebrating the Western New Year in Chiang Mai is awesome! The streets (closed to cars) are full of street food stalls: chicken satay skewers, smoothies, crispy noodles, Thai sausage and many more of delicious things… All the temples are illuminated. Local music groups are performing on a stage, surrounded by the foot massages booth, fireworks, and gallons of good thai beer!
The highlight of the evening: the illuminated lanterns flying by thousands! We bought from street vendors these ultra-light paper lanterns that work like a balloon: the heat of the flames swelled the lantern that flies. Kids loved to release their own! Looking at these bright orange stars shining into the night sky was a magical moment, a must see once in your life! And despite the crowd and the beer flowing, not a fight, not a drunk person: a very relaxed, quiet and friendly atmosphere, with lots of families and toddlers.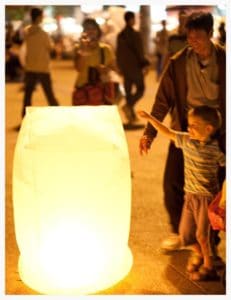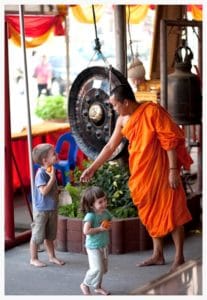 XX

New Year's with kids in

BANGKOK

, by Lisa from Flip Flop Globetrotters
XXX
Khaosan Road was already really crowded at 7pm, with a DJ spinning tunes (the Thai way, so quite loud) and a big clock counting down the hours until 2016. The whole area looked like a fairy tale setting with millions of lights everywhere. We went home and were lucky that our toddler went to sleep without a fight around 8pm. He was a bit grumpy when we woke him up at 10pm, but quickly became cheerful again. Despite a lot of people in the streets, there was a good vibe.
We headed to the riverfront near the King's Palace and Wat Pho. It was really busy, but good atmosphere. In order to see the fireworks we had to get close to the river bank and wait for about 25 minutes in a huge crowd. Our son, happily sitting in the carrier on my back, didn't mind. Finally it was time to count down the last 10 seconds of 2015! Lots of really loud and beautiful fireworks, exactly as we had hoped! Our little one was a bit scared and first, but once we started pointing out the colors and the amazing lights in the sky, he really liked it. By 2am he was back in his bed and slept until 9! Lucky us!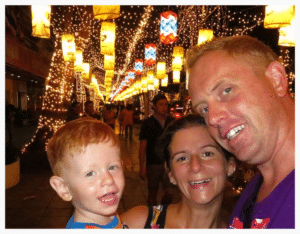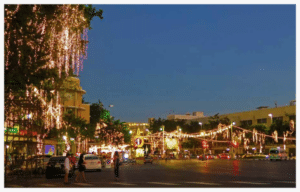 XX

New Year's with kids in NAPLES (Italy), by Travel With My Kids
XXX
The traditional New Year's Eve meal is all about bringing good luck. A very popular dish is lentils served up with cotechino (a big pork sausage). Once sliced, the pieces look like coins and lentils symbolize wealth and prosperity. The meal ends with raisins, for good luck. Note that a funny tradition in Italy on New Year's is to wear new red underwear. That explains why we saw so many red panties hanging in shop windows at this time of year! 
We were expecting lots of fireworks in Naples on New Year's Eve… but it was way beyond our expectations! In fact, families and groups of friends host their own. The fireworks are launched from any places: balconies, streets, roof terraces… More than one hour of dazzling display, coming from every parts of the city. Our rental apartment had a terrace, and I thought that we will watch the fireworks from there. But we were (rightly) warned not to stay outside. I understood why! To keep safe, don't walk around with kids. But enjoy this crazy fantastic endless show from your bedroom, it really worth it!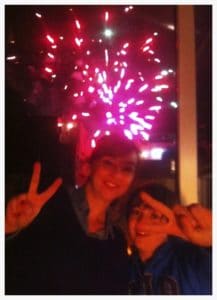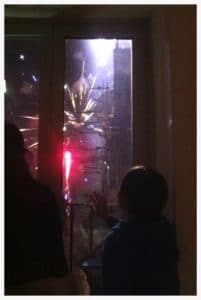 XXX

New Year's with kids in FRANKFURT, by Christine from Tapped out Travellers
XXX
To say Frankfurt during New Year's was busy is an understatement. I have never seen so many young people jam packed into such a small space in my life. The best area to watch the fireworks are at the Dom/Romer shore. The area started to fill around 10pm; pretzel and beer stands lined the main square. A few bratwurst and gluwein vendors remained open until the festivities. The area was supposed to be policed and any persons seen intoxicated in public or launching their own fireworks would be arrested.
We witnessed many people beyond holiday inebriation and the air was thick with smoke before the official fireworks even began; a few people even choose to bring cap guns and throw cap-rockets at peoples' feet. This was definitely not a place to bring children. The festivities themselves were disappointing and borderline dangerous. I would only recommend this city again if one were able to secure higher ground for viewing, or from the window of their accommodations; while large cities have a great atmosphere during the day, they can quickly change when the sun goes down, Frankfurt was no exception.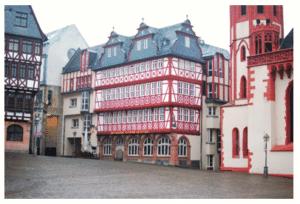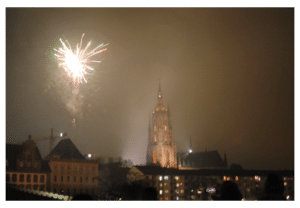 And New Year is not celebrated on 31st of December all around the world…

Songkran New Year's with kids in BANGKOK, by Tikva from Gezin op Reis
XXX
 Our western New Year is not celebrated as widely as the Thai "New Year" Songkran that is celebrated in April. If you are in Bangkok during Songkran, the best places to go to are either the backpackers area of Khao San Road or the Siam area. There is a bigger party atmosphere at Khao San Road than most nights (still friendly though), with lots of drinks sold on the street and music. The street is usually heavily decorated with balloons and actually a lot of Thai come here to join the fun as well.
The biggest celebration with lots of fireworks and big name music performances is in the Siam area, especially at Central World square. Go early to get a spot. With young children it would be even better to splurge on a skyscraper hotel near Siam and enjoy the fireworks from your bedroom. The next morning you can join many Thai going to the temples to pray for good luck.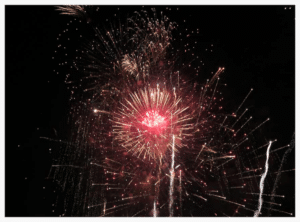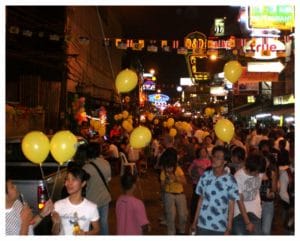 XXX

Lunar New Year's with kids in TAIWAN (China), by Amanda from Miss Panda Chinese
XXX
Lunar New Year is celebrated in China and many Asian countries. Date moves every year, usually in January or February. If you are planning a trip to Taiwan, be there days before the first day of the Lunar New Year since the traditional preparation starts days before. You will see the beautiful decorations, open markets filled with food and special items. Firecrackers are essential even though they are well controlled in recent years due to safety reasons. It is a tradition to set off the long strings of firecrackers at midnight of the Lunar New Year's day. It is a magnificent scene and sound to experience.
This is also a time for family reunion therefore, it is a peak season for domestic travel. After the ten dishes meal, it's time for the Red Envelope. Parents give their children a red envelope with cash in it. Instead of spending it right away, the tradition is to put the envelope under your pillow so that it will keep you young and healthy. When the children are grown up, then it becomes their turn to give red envelopes to their parents. Note that many business is closed for 3 to 5 days (people usually have 5 or more days off during this time). What a wonderful time to celebrate the beginning of the New Year with the family!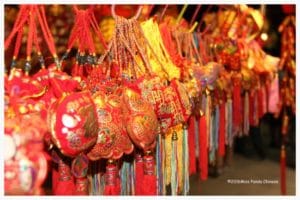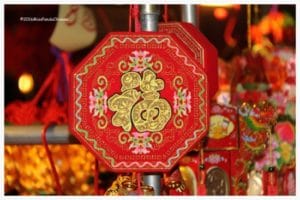 So have you ever celebrated New Year's Eve abroad, while traveling with kids? How was it like: a great experience… or a failure?
© Photo credits: Guest Authors